Iain Duncan Smith 'to look into childcare costs'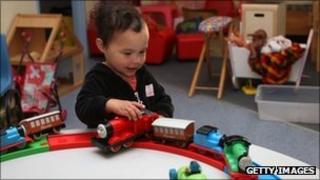 Work and Pensions Secretary Iain Duncan Smith has said he wants to see more childcare services offered by the hour, to bring down costs to low earners.
From 2013 low-income parents who work less than 16 hours a week will be eligible for childcare support, when the "universal credit" is introduced.
But Mr Duncan Smith said he wanted to look into why UK childcare costs seemed higher than other European countries.
Charities say UK childcare costs are among the world's highest.
A survey by two charities, Save the Children and the Daycare Trust, in September suggested parents spent more than a third of their incomes on childcare.
At present, families who qualify for help with childcare costs can get credits to cover up to 70% of the weekly costs, capped at £122.50 for one child and £210 for two, but only if they work more than 16 hours a week.
Rising costs
Before April, families had been able to recover up to 80% of costs, but it was reduced in the spending review.
There are plans to end the 16-hour-a-week minimum once the universal credit - a single payment consolidating existing in-work and out-of-work benefits including child tax credit - is introduced in 2013.
Mr Duncan Smith went through the plans, part of his overall aim to make work pay for people currently on benefits, in a session with the Commons work and pensions committee earlier this week.
But with rising childcare costs, Labour MP Teresa Pearce asked him if he could be sure parents would always be better off in work.
The cabinet minister told the committee: "I fully understand and accept there are issues about childcare costs.
"There are some other things about the UK which are, I think, worth us examining a little bit more as to why sometimes, relatively our childcare costs seem to be at a higher level than others."
'Out of kilter'
He said he had started discussions with childcare providers - such as nurseries and playgroups - about selling more childcare by the hour rather than in "blocks".
"If we are going to offer this across the hours with universal credit, maybe it is time for many more childcare providers to actually start looking at providing childcare by the hour rather than by the block, which tends to be much more the case in some other European countries."
"That would start to have an effect in bringing down the overall cost of childcare to many people concerned."
Another Labour committee member, Sheila Gilmore, told him it would not be easy for providers to charge by the hour - and could threaten their "viability".
She said: "I'm very aware that for a lot of childcare providers already, there are gaps in their provision - for example fewer people want afternoon places and that sends the whole financing of the provider out of kilter."
'More flexible'
But the minister said he believed the current system locked childcare providers into a certain way of working - and he believed that ending the minimum hours requirement could have a "dramatic effect".
He estimated that an extra 80,000 to 100,000 people would become eligible for childcare: "I like to think that what we are doing here will probably be to increase the market and improve the market and make it much more flexible."
Mr Duncan Smith also said he wanted to see whether regulations about childcare providers needed looking at - to see if there were currently too many "obstructions" to people who wanted to set up child care or expand providers.
"It's a combination of things I really want to drill into now to try and figure out whether there is more we can do elsewhere to try and drive the cost of childcare down."
HM Revenue and Customs say 493,000 families receive the childcare element of working tax credit and receive an average of £69 a week help with costs.
Labour say Mr Duncan Smith's plan to axe the 16 hours minimum is "smoke and mirrors" as the government has already reduced childcare support from 80% to 70% of weekly costs, as part of spending cuts.