Eurozone crisis: Osborne warns of impact on UK jobs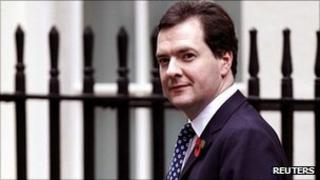 Chancellor George Osborne has said the financial crisis gripping the eurozone is hitting British jobs and growth.
As Italy agreed austerity measures demanded by the EU and Greece's new prime minister took office, Mr Osborne said the situation remained "very difficult and dangerous".
Despite Friday's events, David Cameron said there was still a "big question mark" over the eurozone's future.
Labour's Ed Miliband said the PM should demand an urgent meeting of EU leaders.
On a day of fast-moving developments in Europe:
British politicians have been calling for decisive action by eurozone leaders to stand behind the euro and prevent the turmoil spreading further.
'Weathering storm'
Although the UK is not a member of the single currency, 40% of its trade is with the eurozone and Mr Osborne said there were signs the continuing uncertainty was having a direct effect on the UK economy - which has seen sluggish growth.
Mr Osborne told reporters: "It is a very, very difficult and dangerous situation in the eurozone - Britain is impacted by what's happening.
"There's no doubt that growth in Britain, jobs in Britain, have been hit by what's going on in the eurozone.
"It's all the more reason that we in Britain weather this storm by taking the difficult decisions we take on our own terms - rather than being forced to do so by the markets."
After passing the Italian senate on Friday, a far-reaching package of spending cuts and tax rises is expected to get final approval at the weekend.
'Very worrying'
Italian prime minister Silvio Berlusconi is set to resign once both houses of Parliament have passed the measures, with former EU commissioner Mario Monti tipped to succeed him.
In Greece, Mr Papademos is leading a new government of national unity which is expected to implement further austerity measures - seen by EU leaders as a prerequisite for any further bailout.
In an interview with BBC Radio 2's Jeremy Vine programme, UK PM David Cameron said these were "very worrying times" with market turbulence and question marks over whether countries could deal with their debts and "a big question mark over the future of the eurozone".
He said if UK interest rates hit Italian levels it would be "calamitous" - "If we risked spending a lot more money or giving up on our plan to get on top of our debts and our deficit, interest rates could go up, mortgage rates could go up. That would be the worst thing for family finances."
"Keeping the economy safe, trying to get us safely through this storm that is taking place in Europe has got to be our priority."
Labour leader Ed Miliband called on Mr Cameron to take a much more hands-on approach to the economic difficulties both at home and in Europe.
"I think it's very disappointing that the prime minister hasn't been in regular touch in the last few days with either President Sarkozy or Chancellor Merkel," he said.
"I think what David Cameron needs to do is say to Europe's leaders: 'We must meet urgently as the 27 countries and get this problem sorted out once and for all', because, frankly, the British economy and actually the world economy can't afford the problems that we're seeing."
50p tax rate
Meanwhile the prime minister and chancellor have appeared to rule out any immediate change to the 50 pence tax rate after about 30 businessman urged it to be scrapped in a letter to the Daily Telegraph.
"This autumn we are not looking at the 50p tax rate," Mr Osborne said.
"This autumn our priority is to get the housing market going and to get infrastructure underway."
Mr Cameron said the decision to retain the 50p rate - which was introduced by the last Labour government - was symptomatic of the coalition's approach to cutting the deficit in that "those with the broadest backs bear the biggest burden".
Business groups, such as the CBI, have called for the top rate of tax to be reduced as soon as possible, arguing it is not bringing in the money anticipated and is actually deterring enterprise.
The Treasury is carrying out a review of what the 50p rate is raising, expected in the spring.