I've been through hell, says jailed Lord Hanningfield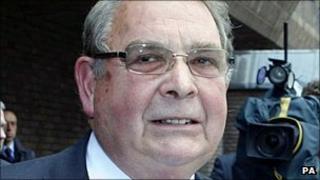 Jailed peer Lord Hanningfield has told the BBC he has been through "hell" for two years over his expenses.
The former Essex County Council leader said he slept better in prison than he had during the police investigation and said: "I've paid my debt."
He said he did not believe at the time he was doing anything wrong in making claims for overnight stays in London when he actually returned to Essex.
The 70-year-old was convicted of falsely claiming nearly £14,000.
He was jailed for nine months in July but was released on licence in September and currently wears an electronic tag and observes a 1915 GMT curfew.
'Guantanamo Bay'
Lord Hanningfield - whose full name is Paul White - told BBC Radio 5live's Victoria Derbyshire Show he had been badly affected by his experiences of the past few years.
"I slept better in prison than I had done in the two years before because I had such an awful time. Before I went to prison I felt I could almost have been in Guantanamo Bay because I was having such a hard time.
"I think people need to realise the stress and strains, which are worse than prison, of all the previous bits. I have really paid my debt to society if I was wrong. It's been absolutely hell for the last two and a half years and I'm sorry."
He was sorry for "any embarrassment" he caused his colleagues over the expenses claims but added: "I didn't think at the time I was doing anything wrong but I realise now that I was."
He said the old House of Lords expenses scheme was "confusing" and he had not realised he could not claim in one category - the £174-a-night allowance for overnight stays in London - to cover other costs, such as staffing.
"I thought I could vary between the categories, it was my mistake and I apologise for it. But I would never have committed anything I thought was a crime."
'Spent a fortune'
He said he had not paid sufficient attention to his claims and had been doing too much at the time - with two jobs, as a peer and council leader "trying to save money for the taxpayer".
But he argued it was an allowance - that did not require money to be spent to be refunded - pointing out that as a peer, he did not get a salary and said he had "spent a fortune" on cups of coffee and other costs for the "droves" of people who came to see him in his capacity as a transport spokesman in the Lords.
And he said his overall claims were "way down the list of total amounts" claimed by other peers.
On Wednesday he and his fellow former Conservative Lord Taylor were suspended from the Lords until next spring.
But, like Lord Taylor, the peer says he wants to play a role in the debate on prison reform.
He told the BBC he wanted to put the episode behind him and use his experiences "for the benefit of others", telling the show he intended to keep in touch with some of the young people he had met in prison, on their release.
"Prison is very different from what a lot of people think and it's very important, if we are going to reduce crime in the country and help young people particularly, people like me can do a lot about it because I've seen it from the other side now."
Lord Hanningfield stood down as council leader, resigned as shadow business spokesman in the Lords and had the Conservative whip withdrawn when he was charged.
But he did not rule out a return to front line politics: "I do believe in rehabilitation and lots of people have resigned, or had to resign and then are able to work again later on - we'll just have to see how that goes."