MP urges inquiry into border chief 'briefings'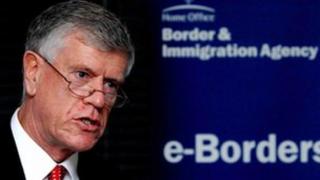 The head of the civil service has been asked to investigate claims that one of the home secretary's special advisers briefed against former head of the UK border force Brodie Clark.
Mr Clark was suspended by Theresa May last week after being accused of relaxing immigration controls beyond certain limits that she had authorised.
He later resigned, saying his position had been made "untenable".
Labour MP Simon Danczuk has asked Sir Gus O'Donnell to investigate.
Mr Clark denies acting improperly and says he is planning to sue for constructive dismissal.
In a letter to Sir Gus - which was also sent to Mrs May - Mr Danczuk said: "I am writing to raise serious concerns about suggestions that advisers to the home secretary may have been briefing against a serving civil servant who had been suspended and therefore had no right to reply.
"A number of allegations about Brodie Clark, who had just been suspended as the head of the UK border force, appeared in newspapers over the weekend."
He referred to claims that officials had been told to refuse any offer of resignation by Mr Clark, as well as descriptions of him as a "rogue civil servant".
The Rochdale MP went on: "If the information about Mr Clark, who at that time was still suspended and had not resigned, came from one of the home secretary's special advisers, then this appears to be a breach of the code [of conduct for special advisers]."
The code of conduct states that "the preparation or dissemination of inappropriate material or personal attacks has no part to play in the job of being a special adviser as it has no part to play in the conduct of public life".
'Full responsibility'
During the summer, to ease congestion at airports and ports, the home secretary authorised a pilot scheme, allowing some checks on European travellers to be relaxed.
But she told the House of Commons that Mr Clark went much further, scaling back checks on non-EU nationals without her approval.
She said Mr Clark must "take full responsibility for his actions".
Announcing his resignation on Tuesday, Mr Clark said Mrs May's statements were "wrong".
"The home secretary suggests that I added additional measures, improperly, to the trial of our risk-based controls. I did not. Those measures have been in place since 2008/09.
"The home secretary also implies that I relaxed the controls in favour of queue management. I did not."
Mrs May has announced there will be three inquiries into what happened, the main one led by the Chief Inspector of the UK Border Agency, John Vine.