Phone hacking: 10 questions for James Murdoch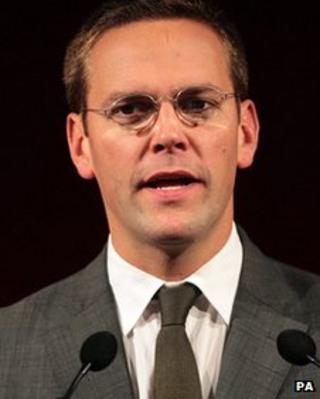 James Murdoch will give evidence on Thursday for a second time to the Commons Media and Culture committee which is looking into allegations of phone hacking at the News of the World.
Here are 10 questions the News International chairman could face.
1) Do you stand by your testimony in July that you were not made aware of the "for Neville" email which suggested hacking was not the work of a single reporter but was more widespread?
2) If so, why did Tom Crone and Colin Myler - two former executives at the company - tell the committee they are "certain" they raised it with you?
3) Were you made aware of other evidence suggesting that this was not an isolated incident - such as legal advice provided in 2008 and Clive Goodman's 2007 letter suggesting hacking was discussed widely at editorial conferences?
4) Is there any evidence suggesting journalists on other News International papers such as the Sun and the Times may have been involved in illegal activity?
5) Your company has admitted the News of the World hired private investigators to carry out covert surveillance of lawyers working for phone-hacking victims. Did you know this was happening and what is your reaction?
6) In what circumstances do you believe covert surveillance of public figures, such as MPs and celebrities, by newspapers is acceptable?
7) When will an inquiry by law firm Olswang into what took place at the News of the World and their review of corporate governance, ethics and compliance at News International be finished?
8) What were the terms of Rebekah Brooks' departure from News International? How much did she receive in severance pay?
9) Pending the outcome of a judicial inquiry into phone hacking and the future of media regulation, is it right for you to remain as chairman of broadcaster BSkyB?
10) What damage do you believe the revelations have done to the reputation of your newspapers in the UK and your business interests abroad?