The Localism Bill - power to the people?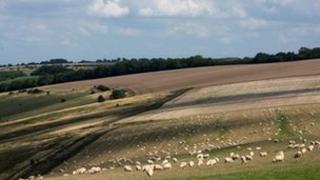 The government says its Localism Bill will allow communities to shape development in their area - but what if they choose a shape that ministers don't like?
The Localism Bill is designed to set the Big Society in legislative stone.
It is intended to give councils more freedom from Westminster control and communities the power to make their own decisions about housing, services and commercial development via "neighbourhood plans".
The inherent conflict in this though - and indeed, in government decentralising pledges through the ages - is that ministers still want, and often need, decisions at a local level to go one way rather than the other.
So, for example, David Cameron says the UK desperately needs new houses and wind turbines, but what happens if that feeling isn't shared by these newly-empowered communities - can they say no?
Is this just - dreaded word alert - a Nimby's charter?
'Not a green light'
Well, Labour say no. Far from people being able to declare Not In My Back Yard, they say the bill actually centralises power - creating more than 100 new powers for Communities Secretary Eric Pickles to wield over councils.
If it devolves anything, they add, it's blame - blame for doing things the public won't like.
Fiona Howie, head of planning at the Campaign to Protect Rural England, believes the truth is complicated.
She points out that neighbourhood plans will still have to reflect national planning policy. They'll also have to conform to whatever is in the local plan - the next tier up - which is developed by the local planning authority.
"So they say it's empowering communities, but it's not a green light to do whatever you like," she says.
"If your local authority allocates 500 new homes to your area, the neighbourhood plan can't overrule that. But what it can do is say, 'We don't like any of the sites you've suggested for the homes, go back and think again.'
"Some communities were sold the idea that the Localism Bill means total control over the future of their area and they're going to be disappointed. But from our point of view it's a helpful first step."
For those whose concern is development - be it housing, farming or commerce - there is some unease at the idea.
"Like hospital beds and transport infrastructure, it's the government's responsibility to ensure there are enough houses for the population," says Steve Turner, of the Home Builders Federation.
"Under this new system, local authorities are allowed to decide how to meet their own housing needs, but ministers will have to monitor this very closely and robustly right from the start to ensure it's being done."
Whose decision?
"Community" - and indeed, "neighbourhood" - are somewhat nebulous words, so who'll actually be writing these neighbourhood plans?
Well, if there's a parish or town council it'll be their job. The former, certainly, are more common in rural areas - and given the transience of many urban populations, the countryside seems more fertile ground for the idea as a whole.
If there isn't a suitable council in an area to step in, a neighbourhood forum - "a group that is representative of the community" - can be set up.
But how do you make it representative? A residents' association wouldn't be enough surely, as it doesn't include anyone from the business world.
Perhaps somewhat ironically, it'll be the local planning authority - whose decisions the neighbourhood plan could challenge - who'll get final say on what is deemed representative.
Nick von Westenholz, head of government affairs at the National Farmers' Union, says the make-up of these forums, and therefore the range of views represented, is crucial.
"Farmers intuitively support the idea of more local decision-making. But at the same time, I think they are nervous of Nimbyism, the sort of defensive approach to development that may actually restrict them from growing their businesses - for example, by building new units."
The Local Government Association, which represents councils in England and Wales, has pushed for - and achieved - a big increase in the number of people who must make up a neighbourhood forum.
Originally, the government suggested just three - now there will be 21, including some local councillors with a democratic mandate.
LGA chairman Sir Merrick Cockell says neighbourhood planning isn't something that's going to be universally seized upon.
"I would be very surprised if over the next few years we see every neighbourhood having a neighbourhood planning forum.
"Many of our residents look to their council to address local needs on their behalf, but I think where there are particular issues and particular concerns, not simply about stopping things from happening but trying to protect and enhance local areas, I think they will have their place."
Hugely controversial
You can't consider the Localism Bill without considering the National Planning Policy Framework, which will determine, from on high, some of the overall aims that all local planners will have to consider.
The NPPF has been hugely controversial, especially because of one particular aspect, the presumption in favour of sustainable development.
The National Trust has led a campaign against it, arguing that weighting the planning system in that way could lead to unchecked and damaging sprawl.
The CPRE says it too fears the NPPF could negate any good that could come from the Localism Bill - if economic growth trumps everything else, how could a community, for example, say they'd rather have a park than a supermarket?
Others like the NFU are more positive - what else, they say, do farmers do if not sustainably develop the land? But they want to see a recognition in the NPPF about the importance of producing food.
A consultation on the draft NPPF closed last month and the government says it will have a final version published by the end of March.
Most seem to agree that document - just 5% as hefty as the one it will replace - will do more to affect communities than anything contained in the Localism Bill.