Norfolk beaches pass European Union tests on water quality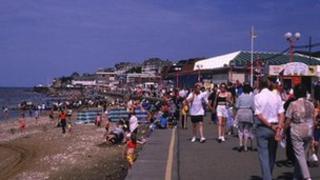 Beaches in Norfolk have passed European water quality tests.
The Environment Agency found all 31 designated bathing beaches checked in Norfolk, Suffolk and north Essex satisfied the standards.
Samples were taken between May and September.
John Daniels, of the Environment Agency, said the results showed water quality had continued to match the "highest criteria".
But he warned more work was needed to comply with tougher rules set to come into force in 2015.
Bacteria tests
"We are delighted all our bathing waters continue to meet the highest criteria for water quality, " he said.
"However, stricter new standards come into force in 2015 and we are not resting on our laurels."
Norfolk beaches tested included Hunstanton, Cromer, East Runton, Hemsby, Caister, Gorleston, Great Yarmouth, Mundesley, Sheringham, Sea Palling and Wells.
Each European Union-designated bathing water site is tested on an annual basis for various types of bacteria.
Officals take 20 samples from each site.