Q&A: Brodie Clark and the UKBA border checks row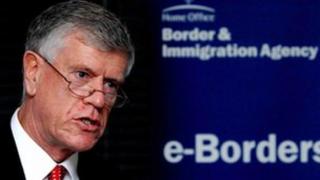 The row over claims that UK border controls were relaxed without ministerial agreement continues to rumble on, with ex-border force chief Brodie Clark insisting he is "no rogue officer".
Home Secretary Theresa May, however, has insisted he acted without her authority.
Labour have called the affair a "fiasco" and demanded to know whether anyone posing a risk to national security was allowed to enter the UK as a result.
So what is the background to the furore?
What has happened?
Three senior UK Border Agency officials were suspended over claims that staff were told to relax the checks made on non-EU nationals arriving in the UK. The three people were Brodie Clark, the head of the Border Force, Graeme Kyle, the border director for Heathrow, and Carole Upshall, director of Border Force South and Europe, responsible for checks at Calais and the Eurostar terminal in Paris. On 8 November Mr Clark quit, denied acting improperly and said he planned to sue for "constructive dismissal". In December Graeme Kyle and Carole Upshall were reinstated after an internal investigation said they had no case to answer.
What happens at the border?
This controversy is all about the types of checks that border guards conduct. When a traveller arrives at border control, officials check their details and, where applicable, the data stored on the biometric chip in a modern passport. Staff can also check an individual against watch lists, known as the Warnings Index. This index is a special security log of people of concern, such as criminals, suspected terrorists, or other people excluded from the UK.
Some people from outside the European Economic Area (EEA) need a visa to enter the UK. In these cases there is a mandatory check of fingerprints to ensure that the individual who presents themselves is the same person who applied and had a fingerprint registered with the visa. Officials can also carry out further checks, such as full interviews.
So what exactly happened?
In July 2011, a pilot scheme, signed off by the home secretary, began at 28 ports and airports. It involved fewer mandatory checks and more intelligence-led stops of higher risk travellers.
In essence, border officers were told they could use their discretion to:
Stop automatically checking all biometric chips on every passport belonging to UK nationals and other citizens from inside the EEA
Stop automatically checking all EEA children travelling with their families or in a school party against the warnings index
All other passengers would, the Home Office says, continue to have full checks. But immigration officials were allegedly authorised by Brodie Clark to go further and to:
Abandon the verification of fingerprints contained in visas given to non-EEA nationals
Abandon watch list checks at Calais
So Brodie Clark exceeded his authority?
Theresa May says she was quite explicit about what the pilot should cover - and what it must not. Home Office ministers began debating changing controls in January and came up with proposals in April. Mrs May said she authorised an "amended and limited" scheme. Security officials told ministers that they were content.
What's Brodie Clark's defence?
Mr Clark insists he "did not extend or alter" the pilot scheme "in any way whatsoever". He says problems have arisen because of the "conflation" of two distinct things - the pilot and the existing guidance, in place since 2007, that border staff must follow. That guidance gives officials permission to relax some checks on the grounds of health and safety - at exceptionally busy times when arrivals queues become so long as to present a danger. Crucially though, the guidance does not permit the relaxation of fingerprint checks - indeed, they were not introduced until long after it was written - and does not allow any reduction in checks for non-EEA nationals. It does allow border staff to forgo checks on EEA passengers against the Warnings Index. Mr Clark says he became aware in early 2011 that staff at Heathrow were foregoing fingerprint checks rather than Warnings Index checks. He says he did not stop this, believing it to be "a very sensible decision", because he felt Warnings Index checks were more important. Mr Clark says he took this decision "to keep the border strong rather than to weaken the border".
What's the problem with this explanation?
When the pilot was set up, Theresa May expressly ruled out any relaxation of fingerprint checks as part of it. Mr Clark says she made no mention of being against it for health and safety reasons though. He says he made "no connection" between the pilot and what he called "long-term contingency arrangements" for busy periods. However, Rob Whiteman, UK Border Agency chief executive, says ministers had made it perfectly clear that they wanted fingerprint checks to be carried out at all times. He says it was "disingenuous" of Mr Clark not to give Mrs May the "full picture" of other policies that were in use when they were setting up the pilot. Mr Clark says he would be "surprised" if ministers didn't know about the contingency plans, although he admits he has "no evidence" that they did and says he should have "more thoroughly checked what the home secretary knew or did not know".
So who's right?
The language may be crucial. Mr Whiteman, who had only been in his job for a matter of weeks, says Mr Clark had admitted to him that "he authorised his staff to go further than ministerial instruction". Mr Clark denies this. Two civil servants were present at the meeting, so the contents of their notes could prove crucial.
Where does this leave the investigation?
There are two internal UKBA probes - one looking at how, when and where checks were suspended and another at the "role and activity" of UKBA officials who worked directly under Mr Clark. John Vine, the independent UKBA watchdog, is look into the wider issues of chain of command including ministerial orders. But the Home Affairs Committee is also pressing for answers in public.
What are biometric chips?
Most modern passports have a biometric chip - they are now almost universal across Europe. A biometric chip includes an encoded image of the passport holder - meaning that it is very difficult to forge. When the passport is swiped through a reader, the immigration officer's screen shows the picture encoded on the chip so they can check it is the same as the picture fixed in the passport and the person in front of them.
Have border guards dropped checks before?
This point was initially part of the home secretary's attack on Labour. She told Parliament that Warnings Index checks have been suspended more than 100 times since 2008. In the summer of that year, officers suspended carrying out Warning Index checks against EEA nationals on Eurostar services and at Calais. She also said that officials had told her that once in 2004 Heathrow Terminal Three managers completely opened passport gates.
Was the pilot a success?
Despite the controversy that now surrounds it - and the fact that it has been abandoned - all concerned appear to agree that it was. The government says the changes aided the flow of passengers and stopped more illegal entrants. Mrs May told MPs that the number of illegal entrants detected during the pilot had increased by nearly 10% compared with the same period of last year. David Cameron has also hailed its results in the Commons. Mr Clark told the Home Affairs Committee that in August 2011 the results were particularly "astounding". He said seizures of Class A drugs had risen by 60% and an increased number of "clandestines" was detected. He said he was "hugely disappointed" that the pilot had been suspended. Mr Clark also said that under the old "process-driven" system, eight million children from the EEA had been checked against the Warnings Index and just one - spuriously as it turned out - was flagged up.
What do staff say?
Unions have told the BBC that the pilot was linked to cuts and the pressure to clear people from major ports when queues began to build. Approximately 5,000 jobs are going from the UKBA as part of the Spending Review. Unions say that even if it only takes 30 seconds to check a check or visa fingerprint, some passengers may end up waiting hours. By dropping checks, say unions, passengers get through more quickly. It also means that officers could be redeployed to other jobs, such as baggage or cargo-related investigations.
Do these checks really work?
They form part of the border frontier security apparatus. But there is a parallel "sixth sense" that border officers try to develop in the job. They usually decide to interview people because of how they respond to basic questions that are asked while the computer is checking other details. Some immigration officers say that if they cannot check biometrics, then it reduces their opportunity to ask questions that may uncover liars. The rules say quite clearly they should use their discretion - but unions say staff are under pressure to get people through quickly.