Philip Gould - a man who taught Labour hard lessons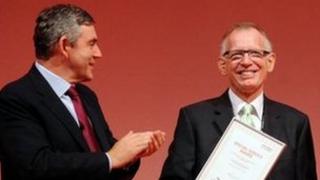 Philip Gould wasn't the first to poll focus groups for Labour - Sir Bob Worcester was doing it in the 1970s - but Gould knew they were essential for reconnecting the party to lost voters.
Listening to voters might not seem a very startling strategy for a political party wanting to win elections.
But in the 1980s Labour listened to its activists instead and the party was repeatedly punished by voters.
Philip Gould - along with fellow pollster Deborah Mattinson - carried out their first focus groups for Neil Kinnock in 1985.
The then Labour leader knew the party needed to be told difficult truths about the views among voters, backed up by empirical polling evidence.
Their work was discreetly funnelled into a sceptical party. It was the start of a very long process that finally brought victory for Labour in 1997.
A year later, Gould published the Unfinished Revolution, a campaigning bible for all political parties. In it, he insisted it was futile for a party to press on making political arguments that had already been lost.
He said a political party could only be successful if it completely engaged with voters as they were - not as party members might want them to be.
'Forgotten voice'
For Labour - and then the Conservatives in the New Labour years - that was a hard lesson to learn.
Gould's focus groups helped Labour understand the views of suburban, so-called "aspirational" voters, the ones who carry a lot of clout in those crucial swing seats.
Philip Gould was from exactly that background himself and knew Labour needed to be clear-eyed about the needs and hope of the electorate.
Deborah Mattinson denies Labour slavishly followed the finding of focus groups when in office but Gould's closeness to Tony Blair undoubtedly gave them an importance they hadn't had before.
In the opinion of Alastair Campbell, Tony Blair's chief spin doctor, Gould's approach set him apart.
"He was a strategist. In politics, tactical minds are two a penny, but strategic minds often aren't, and Philip brought real hard strategy to politics," he told the BBC.
"The focus groups, over the years they've been derided, but actually, Philip came from a very ordinary background and he felt that too many people in the political elite, and especially Labour in our wilderness years, forgot people like the people where he came from.
"Ordinary lower middle class people - the focus groups were a way of ensuring that those people's voice never got forgotten."
But Mr Campbell said that to think of Gould only as a pollster - albeit a highly favoured one - does an injustice to his true significance to Labour and Tony Blair in particular.
"You have lots of ups and downs in politics and you have to know where the rocks are - Philip was a rock."