Why Stoke council keeps swimming dispute details secret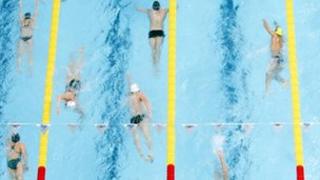 An occasional series about refusals to answer freedom of information requests for apparently puzzling reasons.
My colleagues in BBC Stoke have been following a dispute between Stoke-on-Trent City Council and the local water theme park, WaterWorld, dating back to 2008, about possible arrangements for swimming provision.
In September following mediation the council apologised to Waterworld for causing "considerable confusion" over an "alleged contract". Last month after public pressure it revealed it had settled the matter by paying the water park around £22,000, while its own legal costs were a similar figure.
The council is refusing to disclose further information about the dispute and its settlement. In response to an FOI request from a BBC Stoke reporter, it argued that revealing more background to the case "would be likely to prejudice the effective conduct of public affairs", which is one of the exemptions under the Freedom of Information Act.
Disruption
It then went on to argue that disclosure would restrict the council's ability to settle future legal disputes on a confidential basis. But the key reason it presented for why the material should be exempt was as follows:
"Disclosure of the information would be likely to prejudice the authority's ability to meet its wider objectives or purpose due to the disruption caused by the disclosure and the diversion of resources in managing the impact of the disclosure".
In other words, publishing the information would cause too much fuss.
Or at least that is what it appears to be saying, which seemed strange to me. When I asked for elaboration the council added that (as discussed at a council meeting) further disclosure could risk breaching the settlement and jeopardise mediation processes, but on the point of what this key section means it told me that its refusal letter "is self-explanatory".
BBC Radio Stoke is now appealing the refusal to the Information Commissioner.