Two peers jailed for expenses fraud facing Lords ban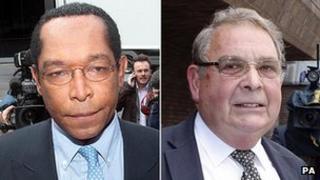 Two peers convicted of expenses fraud should be suspended from the House of Lords, a key committee has said.
Lord Taylor and Lord Hanningfield were jailed earlier this year for claiming expenses dishonestly, although both have since been released on licence.
The Lords privileges and conduct committee said the two men should be banned from the Upper Chamber until next June and May respectively.
The Lords will vote next week on whether to impose the bans.
The privileges and conduct committee is urging that the former Conservative peers should be barred from attending the Lords for the same length of time to which they were sentenced.
'Found guilty'
If approved by peers, the suspensions would run from the date the two men were sentenced.
That would mean Lord Taylor, who was jailed for 12 months on 31 May for fraudulently claiming more than £11,000 in taxpayers' money, would be barred until 1 June 2012.
Lord Hanningfield, jailed for nine months on 1 July for falsely claiming nearly £14,000, would not be able to return to the Lords until 1 May.
Both men were released from prison in September.
The committee said it would be "inappropriate" for either of the two to be able to resume their duties in the House "before the whole sentence imposed by the court has run its course".
"These cases are the first in which members have been subject to internal disciplinary proceedings in respect of actions which have also been the subject of criminal prosecution," it said.
"Both members have been found guilty, and have been punished with prison sentences."
Its recommendations follows a report on the two men's conduct by the independent Lords Commissioner for Standards and the sub-committee on conduct in the Lords.
Remorse
Lord Taylor indicated he would accept the sanction if it was agreed by his fellow peers, insisting that he was "full of remorse" for what he had done.
"I regard it as a privilege to serve the public," he said. "I repaid in full the total amount of monies requested as quickly as I could, and have also served a prison sentence.
"I intend to use my recent experiences, particularly the time spent in prison, in a positive way to enable me to help others in the future. I am grateful that I will be able to return to my duties as a member of the House of Lords in June 2012."
Lord Taylor resigned the Tory whip while Lord Hanningfield had it withdrawn so both will sit as crossbenchers - peers who are not aligned to any political party - in future.