UK Youth Parliament urges action on transport costs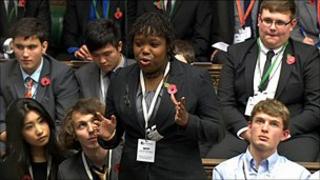 Teenage members of the UK Youth Parliament have urged ministers to cut the cost of public transport and make it more accessible.
Hundreds of 11-18 year olds voted to make the issue the subject of their national campaign in 2012 following a series of debates in the Commons.
Speaker John Bercow, who chaired the event, pledged to draw it to the attention of the transport secretary.
The Youth Parliament staged its first debate in Parliament two years ago.
Elected members of the UK Youth Parliament voted to back a motion urging the government to make public transport "cheaper, better and accessible to all" as the focus of their campaigning activities.
'Important voice'
They chose the subject ahead of other motions on student finance, bullying in schools, child poverty and the green economy, following their third annual Commons debate.
The five topics were chosen for debate in a poll of 65,000 young people.
Adam Gravely, from Northampton, said high transport costs were contributing to rising levels of youth unemployment and needed to be addressed.
"It is clearly an issue. Young people want to work and take jobs. If they are in a rural area, it is very difficult as many of the jobs are in the town centres.
"If they do not have buses, how can they get to work?"
'Strong voices'
Abla Seckley, from Aylesbury, said the cost of children travelling to school on the bus often exceeded £1,000 a year and prices increased "exponentially" once you turned 16.
"It is compulsory to be in school. If I don't show up, then I am classed as a truant and if I am a consistent truant because I can't afford to get there, my parents have to pay fines.
"There are families who could be using this money to put food on the table."
Natascha Engel, one of a number of MPs to attend the debate, said she would use her position as chair of the Commons backbench business committee to urge ministers to do more to get the issue of transport costs "further up the government agenda".
"You are young people with strong voices and we are listening," she said.
Speaker Bercow said this was a "clear result", adding he would write to the departments responsible for policy in for each of the five areas debated to respond to the MYPs' arguments.
After Friday's debates, the MYPs met Children's Minister Tim Loughton and Labour leader Ed Miliband to highlight what they believe should be on the parties' political agendas.
Members of Youth Parliament (MYPs) are elected annually in every part of the UK with a responsibility to represent the views of young people in their constituency.
There are currently over 600 MYPs and deputy MYPs - 325 attended Friday's debate.