Pensions offer 'still not fair', Ed Balls says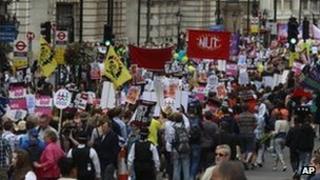 Shadow Chancellor Ed Balls has said the government will have to "give more ground" to resolve the dispute over public sector pensions.
On BBC One's Question Time, he said he did not want to see a strike, but the offer to unions was still not "fair".
Home Secretary Theresa May said workers had been given "a better offer" and it was not right to strike.
Members of the largest public sector union, Unison, have voted to join a "day of action" on 30 November.
There was a 78% majority, with 245,358 in favour and 70,253 against on a 29% turnout.
As well as many NHS and local government staff, Unison represents police staff (though not police officers), probation officers, and clerical and ancillary staff in schools, colleges and universities, who are all in the local government pension scheme.
'Round the table'
The "day of action" is being organised by the TUC and could involve members of 20 trade unions in the public sector.
Five already have a mandate for action from earlier this year, and if all the others vote in favour, it could be the biggest co-ordinated strike since 1979.
On Wednesday, the government offered to change its plans, which are aimed at cutting the cost of funding public service pensions at a time when life expectancy is increasing.
Mr Balls said it was "good the government is finally taking the negotiations seriously", but the lowest paid workers were still going to be "hit hard" by the proposals.
"I think both sides should be round the table talking," he said on Question Time.
"The unions will have to give some ground, but the government will have to give some more ground because at the moment what is being proposed isn't fair and this strike is entirely avoidable."
He added: "I think David Cameron wants a strike, that's the problem."
The home secretary explained why she wanted the industrial action to be scrapped.
"No I don't think it is right for them to go on strike, they have had a better offer," she said.
"There have been negotiations now over several months about this pensions deal, and the reality is that we are all living longer - that is good news - but it means people have to work longer and actually, are being asked, from the public sector, to contribute more to their pensions."
Liberal Democrat peer Baroness Williams said the government's revised offer was "a very decent proposal" that benefitted the lowest paid.
"My feeling is that the unions should now say, 'OK we have to make a sacrifice, everybody has to make a sacrifice, it isn't too extreme, we'll accept it,'" she said.
The unions say they will now examine the government's new proposals in detail, but preparations for the day of action will continue.
Among the concessions made is a proposal for more generous accrual rates - the rate at which pensions build up in value - than previously planned and higher "cost ceilings", the limit on contributions paid by the government.