Young people rioted in moments of madness, report says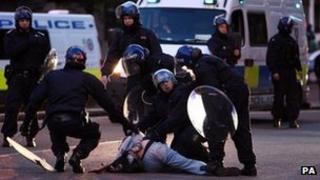 Young people joined the summer riots in "moments of madness" on "a day like no other when normal rules did not seem to apply", a report has suggested.
The study, carried out for the Cabinet Office, found many were initially motivated by excitement, "free stuff" and getting back at police.
A series of factors on the night, including friends and social media, then nudged some to take part.
In all, 206 people were interviewed, including about 50 involved in rioting.
In August, rioters ransacked shops and set buildings ablaze in cities across England.
The report entitled The August Riots in England looked specifically into why young people got involved and focused on five affected areas, and two areas unaffected by rioting.
It found the riots had no precedent in young people's experience and for some, "moments of madness" led to atypical behaviour.
The study categorised the young people as curious watchers, rioters, looters and those who did not get involved, saying some moved through different types of behaviour - for example, a curious watcher who went out to see what was happening got caught up in events and became an opportunistic looter.
It suggested that whether young people acted on the initial motivations was influenced by criminal pasts and involvement with the police, as well as the attitudes of parents and friends.
One young person from Peckham told researchers: "My mum said: 'Don't you dare go outside the house.' I was joking: 'I could go and get myself some new trainers, I could get you some new trainers.'
"And she just looked at me and I just put my head down in shame. She took it very serious. I was raised up properly."
'Scum'
Poverty, materialism and a sense of belonging to a neighbourhood also played a part in nudging young people towards involvement, the report said.
Some spoke of feeling like a lost cause within their communities.
One 18-year-old girl from Salford said she and others like her felt excluded because they had no expectations or aspirations, or support.
They were called "scum" - "told it enough they believe it", she added.
Ultimately, the decision to riot was based on what the young person thought was right or wrong and whether they felt the benefits to themselves outweighed the risks, the report said.
The research, understood to be the first piece focused on young people, found that in places where riots did not take place, there appeared to be less obvious inequality and greater resistance to rioting from local communities.
Last month, new government figures released showed people charged over the August riots were poorer, younger and of lower educational achievement than average.
Half of those brought before the courts were under 21 - and only 5% were over 40.