Parliament urged to remember 5th of November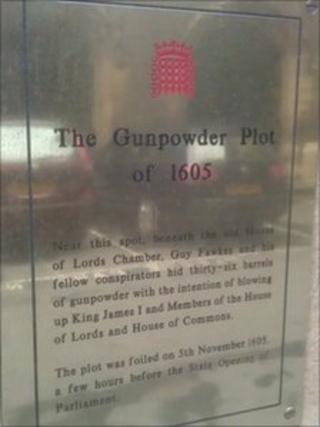 The foiling of the gunpowder plot to blow up the House of Commons more than 400 years ago deserves to be properly commemorated, a Labour MP has said.
Only a very small plaque exists next to a bike shed within Parliament, but it is hidden from public view.
John Robertson wants the public to be granted access to the plaque or for a new one to be installed along the route for parliamentary tours.
Guy Fawkes hid 36 barrels of gunpowder under parliament on 5 November 1605.
He and his fellow conspirators were discovered a few hours before the state opening of Parliament, foiling their plot to blow up King James I, and members of the House of Lords and the House of Commons.
Mr Robertson said: "It does seem strange that we teach our school children the nursery rhyme 'remember remember the 5th of November', but on the very location for why we should remember, we seem to have sadly forgotten.
"This is not an adequate way to properly commemorate such an important moment in our country's history.
"Around the country people will be gathering around bonfires this weekend to remember the 5th of November and every child is taught about it in schools, as the time when we saved our democracy from an act of terrorism.
"Yet at Westminster you wouldn't know this was where it all took place."
He pointed out that if every MP chipped in just £1, they could raise £650, "more than enough to properly honour the memory of a national event commemorating the democracy we celebrate to this day every year".
Mr Robertson, MP for Glasgow North West, will table a motion on Friday, called "Parliament should remember, remember the 5th of November".
The plaque is located in the State Officers Court - the closest spot to the cellar where Guy Fawkes and the gun powder was found.