MP expenses investigator claims 'climate of suspicion'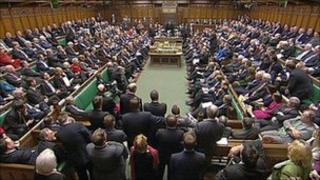 Former expenses compliance officer Luke March has told MPs that there was a "climate of suspicion" at Parliament's expenses body about his job.
Mr March said he quit in August because of a series of issues - including the attitude towards his post by Ipsa.
He said there was a "lack of support" and said that the guidelines for investigating MPs' breaches were "completely disproportionate".
Ipsa said that Mr March had not raised concerns with them at the time.
Mr March's appearance before the members' expenses committee came as the Independent Parliamentary Standards Authority (Ipsa) published the latest MPs' claims - 34,000 processed in June and July amounting to £5.2m. Of those, 53 claims, from 34 MPs were either refused or only partially reimbursed.
'Extraordinary climate'
They show 13 MPs were refused payments of £13.50 - a charge levied by their phone companies for paying their bills late.
The MP with the most refusals was the Conservative Laurence Robertson, who had various claims for taxis in central London turned down.
Mr March resigned from the role as compliance officer in August, after only four months in the role. Days earlier he had been in the news for saying it would be unfair to name MPs under investigation over potential expenses breaches.
He had been the first permanent compliance officer under the new expenses scheme run by Ipsa, responsible for investigating potential rule breaches - and MPs' complaints about the way Ipsa dealt with their claims.
He told MPs that the job had not been what he was expecting: "When I arrived there, there was an extraordinary climate of suspicion towards the compliance role. It was almost as if they tried to pretend it hadn't existed."
Mr March has held a variety of compliance roles in his career - including at the former TSB group, at BT, and most recently at Royal Mail.
He said his job had been independent of Ipsa's board but added: "There were moments when I felt questions were being asked about what I was doing and how I was doing it, which were not raised particularly subtly."
He said there was a "lack of support", he felt the guidelines for investigating MPs were "completely disproportionate" to the breaches he was investigating and added: "There seemed to be more obsession with the process than there was with the result."
Holiday claim
He disagreed with his successor's decision last month not to demand money back from MPs who were found to have wrongly claimed for websites which bore party logos, which is not allowed. Most chose to remove the logos.
"If an MP or anyone receives an amount to which they are not entitled the least you can do is repay it," he said.
Although it was not his role to advise MPs about their claims - he had found himself doing so on various occasions.
He had noticed that one MP had claimed for a journey from his constituency to London - then a return journey two weeks later. "My brain told me: I wonder whether he went on holiday? And of course, he did. I told him: I have noticed, don't do it again."
He also said he had questioned another MP about why he needed several constituency offices: "In one particular case he went just to pick up the mail. He never saw anyone there. I told him that was irresponsible and a waste of public money."
Union representatives for MPs' and peers' staff told the hearing that, in a "self selecting" survey of their members, 58% reported spending three hours or more a week dealing with expenses under the new system - more than three times the previous workload.
They also complained about "nitpicking" by Ipsa which led to many claims forms being returned - and said Ipsa staff only answered the phone in the afternoons, which was a "bugbear" for staff trying to "shoehorn" filing expenses claims into their workload.
Many staff felt they had been "unfairly penalised" over the expenses scandal, with redundancy terms downgraded and staffing budgets cut.
A spokesman for Ipsa said the body had not interfered with Mr March's work.
"The board, to whom he reported, did not intervene unless they had reason to be concerned that he was failing to deliver to his commitments or conduct his duties effectively."
"Further, we don't recognise the 'climate of suspicion' claims and are surprised Luke March never raised any concerns about this while he was in post."
The Ipsa spokesman added that, on the issue of repayments from MPs who breached website rules, the fact was that once the logos were removed - the websites were no longer in breaking rules.
"The compliance officer made a choice about proportionality - would it be proportionate to prevent an MP from having a website for their constituents to see for a relatively minor infringement which was since corrected? The compliance officer decided not."
Mr March has been replaced on a temporary basis by Martyn Taylor, previously Ipsa's head of governance.