Cities invited to choose elected mayors' powers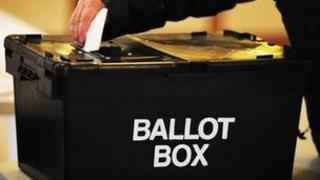 People in 12 English cities are being given the chance to decide the powers of their own directly-elected mayors.
The government says that rather than "impose a one-size-fits-all approach", it wants the remit of each mayor "to properly match local circumstances".
It is asking residents to give their views in a newly-launched consultation.
Leicester already has an elected mayor and referendums will be held in 11 other cities next May to decide whether they want to follow suit.
The cities are Birmingham, Bradford, Bristol, Coventry, Leeds, Liverpool, Manchester, Newcastle, Nottingham, Sheffield and Wakefield.
In a written ministerial statement, Cabinet Office Minister Greg Clark said residents of each city would have until 3 January to express their views.
"The government starts from the assumption that each of our cities is unique, facing challenges and opportunities shaped by its history and location," he said.
"We think city mayors will be able to do their job best when their remit and powers properly match local circumstances.
"Rather than simply seeking to impose a one-size-fits-all approach, then, we think cities themselves should have a strong say over how mayors can help their city thrive.
"With this consultation, we are inviting contributions from the people who live and work in the 12 cities on which powers they believe a city mayor, where elected, should be able to exercise on their behalf."
The government is committed to directly-elected city mayors - with the policy contained in the coalition agreement - but it is unclear how much appetite there is among voters for the idea.