Gay couples allowed to host civil ceremonies in church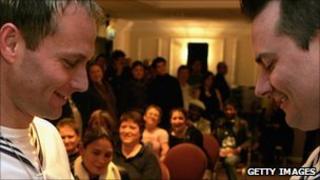 Same-sex couples are to be allowed to hold civil partnership ceremonies in churches and other places of worship in England and Wales.
Equalities Minister Lynne Featherstone said no religious group would be forced to host them, but those who wished to could apply by the end of the year.
The Church of England said it had "no intention" of blessing gay couples.
Gay rights campaigner Peter Tatchell welcomed the move, but regretted it did not allow religious same-sex marriages.
The announcement was made in a written response to a consultation.
Ms Featherstone, a Liberal Democrat MP, said: "The government is advancing equality for LGB (lesbian, gay and bisexual) people and ensuring freedom of religion for people of all faiths.
"No religious group will be forced to host a civil partnership registration, but for those who wish to do so this is an important step forward."
Civil partnership ceremonies are currently entirely secular.
Marriage between people of the same gender is not legal in the UK, but civil partnerships were introduced in 2005 to give couples the same legal protection as if they were married.
'Deviation'
A Church of England spokesman said it had no intention of allowing civil partnerships to be registered in its churches.
"The House of Bishops' statement of July 2005 made it clear that the Church of England should not provide services of blessing for those who register civil partnerships and that remains the position," he said.
However, the spokesman said the Church would study the draft regulations to check that ministers had delivered "genuine religious freedom" by way of denominational opt-in, and if so, there would no reason to oppose the regulations.
The Roman Catholic Church has long held that homosexuality is a "deviation" and is not expected to agree to same-sex ceremonies.
The legislation would also cover synagogues and mosques, although homosexual relationships are forbidden under Islam and Orthodox Judaism.
However, leaders of Liberal Judaism, the Quakers and the Unitarians have in the past expressed interest in registering to hold partnership ceremonies on their premises if the law changed.
Mr Tatchell said it was "ironic" that the government was allowing civil partnerships in religious premises, but continuing to ban religious gay marriages even if a faith organisation wanted to conduct them.
"We believe religious organisations should be permitted by law to perform both same-sex religious marriages and same-sex civil partnerships, if they wish to do so. The current blanket bans must go."
He said it was an "infringement of religious freedom" and accused the equalities minister of supporting discrimination
The Office Of National Statistics reported 6,385 civil partnerships by same-sex couples in the UK in 2010.