Former Tory MP Neil Hamilton elected to top UKIP body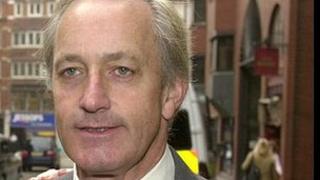 Former Conservative MP Neil Hamilton has been elected to the UK Independence Party's main decision-making body.
Mr Hamilton will sit on UKIP's national executive committee after being selected in a ballot of party members.
He said he was "back in politics" to fight for the UK to leave the European Union and "restore self-government".
Mr Hamilton stood down as a minister in John Major's government in 1994 after the "cash for questions" scandal and lost his seat at the 1997 election.
He has always denied the accusation he accepted cash to ask questions in the House of Commons during his time as an MP.
After pursuing a career in the media, Mr Hamilton returned to the political spotlight earlier this year when he joined UKIP - which campaigns for the UK to leave the EU.
Mr Hamilton has now topped a ballot for elections to the party's NEC - whose members include MEPs, local officials and the party's Treasurer Stuart Wheeler, the former Tory donor.
He will serve a three-year term until 2014.
The former MP, who has hinted he might stand for the European Parliament in elections in 2014, said that he was "delighted" by the result.
He said he would speak up for people who had been "taken for granted" and "deceived" by other political parties over Europe.
"I am back in politics to fight as never before to restore self-government and self-respect to Britain.
"Cameron, Clegg and Miliband are metropolitan liberals unable to comprehend the fears of desires of normal people. These euro-elitists have more in common with each other than they have with the voters. They have all sold Britain down the river."
UKIP leader Nigel Farage said he was "very pleased" by Mr Hamilton's election and growing role within the party.
"His experience and wisdom will contribute significantly to UKIP at a time when the party is seeing increased membership and support," he said.
Mr Farage's leadership was criticised in the wake of a disappointing performance by the party in May's English council elections.
Former deputy leader David Campbell Bannerman defected to the Tories soon after, expressing concerns about the party's direction.