Junk mail crackdown to see launch of website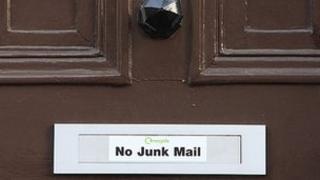 Ministers say it will be easier for people to stop junk mail being put through letterboxes under new plans.
The public will be able to opt out from receiving unsolicited flyers by contacting a single website rather than three different services at the moment.
Environment Secretary Caroline Spelman said this would give people across the UK "more control" over what they get.
All adverts will be fully recyclable in future as part of an agreement with the direct marketing industry.
However, the voluntary initiative only applies to members of the Direct Marketing Association - generally larger firms - and is unlikely to stop small, local companies such as restaurants and decorators from carrying out their mail shots.
The average UK household receives more than 370 items of unsolicited paper mail a year, the majority of it unaddressed.
'Irritated'
At the moment, people seeking to block junk mail have to register on each of the Mailing Preference Service, the Your Choice Preference System and the Royal Mail's Door-to-Door opt-out service.
From next April, people will be able to contact a single website to get this done.
Ms Spelman said junk mail "irritated" recipients, was often a waste of money for the advertisers concerned and was environmentally unsustainable.
"We have all returned home from holidays to be greeted by a mountain of unwanted, unsolicited mail waiting behind the front door, most of which is thrown straight out," she said.
"That is why I have struck this deal with the Direct Marketing Association to give people more control over what gets posted through their letterbox but also to make sure that direct mail we do find useful is produced to higher standards."
'Zero waste'
Ministers pledged a crackdown on junk mail as part of its waste review announced in June. This committed the UK to ultimately move to a "zero waste economy".
As part of the agreement, all direct mail will have to be made from fully recyclable material in the future. At the moment, about 80% of mail is compliant.
Ms Spelman also urged companies posting flyers for takeaway restaurants and other services to respect people who have 'no junk mail' signs on their doors.
"This throws down the gauntlet to those companies... to only deliver what people want," she added.
Officials say people should complain to the Direct Marketing Association or the Office of Fair Trading if they continue to receive junk mail after requesting not to.
'Informed choice'
The Direct Marketing Association said its goal was to "eliminate" unwanted mail.
It said it would seek to persuade more firms to use "suppression lists" - which follow people's opt-out requests - and stop mail being delivered to addresses once inhabitants have moved or died.
"We know that many types of advertising mail are welcomed by customers such as supermarket discount offers," Mike Lordan, the organisation's chief of operations, said.
"Of course, untargeted and irrelevant advertising mail is not welcome. We are keen to ensure people are able to make an informed choice about whether or not they want to receive advertising mail."
Marketing bodies say the direct mail industry supports 280,000 jobs and generates billions in income. An estimated nine billion items of unaddressed mail are sent every year in the UK. According to the Royal Mail, more than 17 million people bought from a posted catalogue last year.