Legal aid cuts 'will harm domestic violence victims'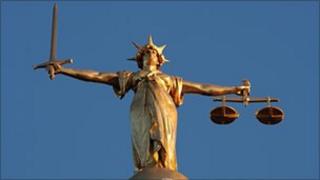 Thousands of victims of domestic violence will be left to "suffer in silence" as a result of government cuts to legal aid, a Labour MP has claimed.
During a Commons debate, Helen Goodman criticised plans to demand a higher level of proof from victims in England and Wales before aid is agreed.
But Justice Minister Jonathan Djanogly said "objective evidence" was needed when taxpayers' money was being spent.
Ministers want to prune £350m from the civil legal aid budget by 2014-5.
They say the current £2bn legal aid bill is unaffordable and help must be targeted at only the most serious and most deserving cases.
GP's assessment
Under the Legal Aid and Sentencing Bill, only domestic violence victims who can prove "a high risk of violence" will qualify for assistance.
In practice, that is likely to require them to have reported the abuse to police.
But Ms Goodman, MP for Bishop Auckland, told MPs: "The reality is that most women experience 20 episodes of domestic violence before they report it to the police.
"By insisting that only a report to the police, followed by various court actions, are required for legal aid, I am afraid the [government] is condemning more women to suffer domestic violence in silence."
Labour say a GP's assessment should be sufficient to qualify an abuse victim seeking legal aid for help in civil matters, for example, a family case concerning the custody of children.
Women's charities say other evidence, such as 999 call-outs, social services records and information from housing agencies, should also be admissible.
Shadow justice minister Andy Slaughter said restricting aid to cases where only "a narrow, onerous range of objective proofs is present" would put "thousands of very vulnerable women at considerable risk".
But Mr Djanogly insisted the government took the "question of domestic violence extremely seriously".
He said: "What I am saying though is that we need to have objective evidence of domestic violence to target taxpayers' money on genuine cases where the victim needs assistance because of being intimidated or otherwise disadvantaged by the fact of facing the abuser in proceedings."
The justice minister added: "I am not questioning the integrity of genuine victims. However, many people during the legal aid consultation were concerned about providing an incentive for unfounded allegations and the government shares this concern."
Benefit challenges
Earlier, a coalition of charities representing disabled people also called for the government to rethink its plans for legal aid.
They say up to 80,000 people will no longer be able to get help to challenge benefit decisions, resulting in a "serious impact" on their finances and peace of mind, and making it harder for them to return to work.
The 23 organisations, including Scope and Mind, want MPs to back an amendment to the bill - put forward by Lib Dem Tom Brake - reversing the decision.
The Ministry of Justice says legal aid will continue to be available in cases where someone is at risk of serious violence, losing their liberty or their home, or where children may be taken into care.