Liam Fox 'hopes for eventual return to frontbench role'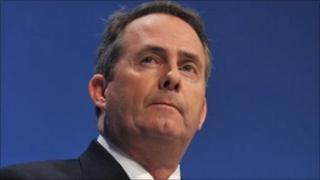 Liam Fox has told BBC Bristol he hopes to return to the front benches - but is also looking forward to being freer to say what he thinks as a backbencher.
The ex-defence secretary admitted he was "careless" in not having a civil servant present at a Dubai meeting with a potential defence contractor.
He "paid the price" for that, which fitted with his belief that people should take responsibility for actions.
No 10 said it was unsurprising Mr Fox was keen on returning to government.
The PM's official spokeswoman said: "He did good work while he was defence secretary. But he resigned only a few days ago."
Mr Fox resigned after a series of revelations about the best man at his wedding, Mr Werritty, acting as a personal adviser and arranging a meeting with a potential defence contractor in Dubai.
In his first interview since resigning, Mr Fox said of that meeting: "I think it was really just a mistake not to have somebody there but... we were sitting in a coffee lounge in a hotel, it was hardly a high security meeting.
"But nonetheless, given this was a potential defence supplier - not as it turns out an actual defence supplier - it still should have had somebody there. It's very easy to be careless but you pay a price for it."
Barricaded house
Dr Fox said that with regard to Mr Werritty his mistake "was to effectively allow someone to function as an independent adviser and that is not allowed under the Ministerial Code".
He added: "I should have kept a better separation there - with hindsight, it seems easy."
However he defended his habit of arranging for time during official visits overseas to meet up with Mr Werritty - who he said he and his wife still see regularly - and other friends.
"I would finish ministerial work and then we would very regularly, in places like Dubai, meet up with friends in the region. So there wasn't any lack of separation between ministerial and private time.
"Some of this coverage, you would think ministers weren't allowed to have private time which is, of course, absurd."
Asked about the media coverage of the case, he said: "It's quite disconcerting, it makes it very difficult to do your proper job.
"You can't physically move, your house gets barricaded and relatives are phoning up because they're upset even to the point of view of one of my nephews who's 14 being door stepped.
"That was unacceptable and I do think that we need to understand that we have to have a free press... but a free press doesn't mean the press can do what they want."
Asked about the reports about his private life, Mr Fox said he did not think there was any rumour or innuendo that had not been written about him during that period, but he was only going to comment on "substantive issues".
He added: "It will be interesting on the back benches - I will be freer to say what I want."
There were also a number of issues - such as pylons and flooding - in his North Somerset constituency which needed to be dealt with and "it will be nice to spend some time at home doing things around the house".
He also had a number of projects to work on such as with charities. "Every challenge you face is also an opportunity."
But he added "I think for the moment I will enjoy having a little bit of extra time... I would certainly like to get back to the front bench. But how quickly is another matter."