UK passes 10,000 border arrests due to screening system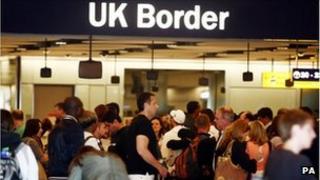 Some 10,000 criminals including rapists and murderers have been held at the UK border thanks to a screening system begun in 2005, a minister has said.
Air and sea carriers using UK ports and airports submit passenger and crew details electronically to the e-Borders screening system, prior to travel.
It results in about 52 weekly arrests, Immigration Minister Damian Green says.
He praised the UK Border Agency and police for the scheme, which covers up to 55% of journeys to and from the UK.
"By checking passenger and crew information before travel, law enforcement agencies can apprehend those trying to evade justice," Mr Green said.
"From 2013 the new dedicated Border Policing Command, part of the National Crime Agency, will further strengthen security at the border, providing leadership and coordination based on a single national threat assessment and strategy."
E-Borders has not avoided controversy. The government faces the threat of a lawsuit from Raytheon, the firm which managed the £750m system until Mr Green terminated its contract in July 2010 over delays to its full implementation.
Raytheon says the problems were down to UK Border Agency mismanagement of the scheme.
But John Donlon, of the Association of Chief Police Officers, said e-borders would continue to play a key role.
Extending scheme
"Police have been able to identify those wanted for offences before they leave or when they return to the UK, bringing offenders to justice and supporting counter-terrorist and serious crime investigations," he said.
More than 125 million passengers' details were screened in the year to September, resulting in 2,700 arrests. Among those detained were 11 murderers, 22 rapists, 316 violent criminals and 126 drug offenders, government figures show.
The government is extending the number of routes and carriers covered by the e-Borders system and will re-introduce exit checks by 2015.
"Inevitably as more routes are covered the number of arrests will grow," Mr Donlon added.
The border agency said recent successes included the arrest at Manchester Airport of a 44-year-old man who was later charged with sexually grooming a boy after an alert from Swiss authorities, and the detention of a man wanted for a rape 14 years ago.
Other cases involved the jailing of a Spanish drugs courier trying to smuggle 1kg of cocaine from Brazil, the arrest of one man from Dubai who was wanted for a £5.7m theft and another who was suspected of a £50m fraud.
Meanwhile, the agency said on Sunday it had blacklisted nearly 3,000 banks it believed could not be trusted to verify documents supporting student visa applications.