Clegg: Retreat to EU margins 'economic suicide'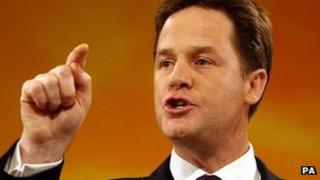 Deputy Prime Minister Nick Clegg has warned it would be "economic suicide" for Britain to "retreat to the margins" of Europe.
Writing in the Observer, Mr Clegg said it would be a "sure-fire way to hurt British businesses and lose jobs".
On Monday, 80 Conservative MPs defied the prime minister by backing a referendum on the UK's EU membership.
David Cameron has denied this showed the coalition was divided on whether any powers should be repatriated.
He has suggested that both he and Mr Clegg, whose Liberal Democrats are traditionally pro-European, agreed there should be some "rebalancing".
In his comment piece, Mr Clegg said it was clear the 17 eurozone nations were moving towards more fiscal integration and the European landscape was "about to change".
'Sacrificing influence'
But he complained two extremes were dominating the debate on how Britain should respond - one which calls for a more centralised EU and another pushing for the UK to draw away from the union.
Opponents of closer union "relish the prospect of a unilateral raid on Brussels' powers," he said.
"The irony is that both options require treaty change: Europhiles and Europhobes are clamouring for the same thing.
"As always, neither extreme of the argument is right. Both would have the UK give up our place at the European top table, sacrificing the influence essential to our prosperity.
"It is only by having a loud voice in a united Europe that we can promote the open economy that will deliver growth.
"Being shoved to the margins, or retreating there voluntarily, would be economic suicide: a surefire way to hurt British businesses and lose jobs."
'Untold benefits'
Mr Clegg said there was "sense" in amending the EU's foundations to ensure eurozone members obeyed strict budgetary rules.
And he roundly rejected the idea that the UK should aim to become the leader of the "outs" - the 10 countries that have not joined the euro.
"We spent years fighting to bring down the walls that divided Europe - it would be damaging to let new ones spring up now.
"From the economy, to climate change, to defence and crime, co-operation between European countries has delivered untold benefits for every single person in the UK.
"Fracturing the EU would undermine those achievements. It should be avoided at all costs."
'Bad for Britain'
Prime Minister David Cameron told the BBC he "did not accept" suggestions that the UK would not be able to reclaim any powers during the current Parliament.
He told BBC One's Andrew Marr show there would be "greater opportunities" to create a "more satisfactory" relationship between the UK and Europe but any steps would have to be approved by both coalition partners.
For Labour, shadow foreign secretary Douglas Alexander said the prime minister and his deputy were "in obvious disagreement" on the issue.
"They look as if they are speaking on behalf of different governments, not just different parties, and that is bad for Britain," he told the BBC's Politics Show.
He rejected Conservative claims his party was set against any change in Europe, saying they would consider calls for any re-alignment of specific powers in a "hard-head, pragmatic way"
"We have said the real issue is the need for reform. Brussels cannot continue business as usual."