'Social value' trumps price in public services, EU says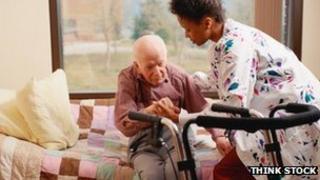 A Conservative MP has welcomed the European Parliament's decision to throw its weight behind the idea of "social value" in public services.
Chris White has put forward a private member's bill requiring councils, the NHS and other bodies to consider more than just cost when awarding contracts.
Now European authorities have agreed that economic, social and environmental benefits should also be a factor.
Mr White's bill has gained support from the UK government.
The European Parliament says the current rules on public procurement make tendering "cumbersome and costly" - and, therefore, out of reach for smaller bidders.
'Driver for innovation'
"In this deep crisis we need clear, simple rules. Only in this way can public authorities give a fillip to innovation and growth," its rapporteur said ahead of the vote on Tuesday.
The declaration states that "the 'lowest price' criterion should no longer be the determining factor in awarding contracts" and "should be replaced by that of the 'most advantageous tender in terms of economic, social and environmental benefits'".
It says social value is especially relevant to services like elderly care, schools and nurseries.
"Broadening the criteria, and systematically admitting alternative bids would also enable bidders to propose new solutions and thus make public procurement into a real driver for innovation," it adds.
It also suggests a number of other measures to help smaller bidders, including dividing public contracts into more manageable "lots" and creating an EU-wide "electronic procurement passport" to reduce the administrative burden on firms.
Welcoming the declaration, Mr White said: "This resolution shows that there is a growing consensus not only in Britain but across Europe that we need to change the way that we organise procurement.
"I hope that this kind of resolution alongside my Bill will send a powerful message to commissioners that innovation is welcome, that purely commissioning on the basis of lowest cost is not the only way that things can be done and that we should be working with those organisations - particularly community groups, voluntary organisations and social enterprises - which have the most potential to deliver long term social, economic and environmental benefits."
Amendments
Mr White's bill would require public bodies - including government departments, the House of Commons and police authorities - to consider how any service or project they seek to procure could be obtained in a way that might improve the wellbeing of their area.
He says it would, for example, apply to the construction of buildings and railways, and the commissioning of services like accounting, auditing and advertising.
Ministers have tabled certain amendments to the bill - a move Labour has criticised - but they say they support its key principles and hope it will allow charities, voluntary organisations and social enterprises to play a greater role in running public services.
Peter Holbrook, chief executive of Social Enterprise UK, said the declaration illustrated "a wider appetite for directing the power of public spending at creating social, environmental and economic value".
"Too often procurement officers within public bodies feel restricted by EU legislation, and so progressive policy changes in Europe could give procurement officers the confidence to make decisions not only on price, but on added social value," he said.
The European proposals are due to be formally tabled in December.