Cameron: London under assault by Brussels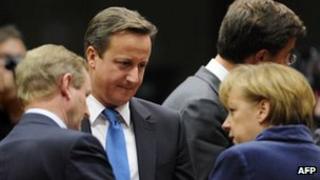 London is under constant attack from Brussels.
So said David Cameron en route from the EU summit in Brussels to the Commonwealth Heads of Government Conference in Perth.
The prime minister's claim is that the City of London - the centre of financial services in Europe - is the subject of regulatory assault by EU directives.
With the eurozone having done a deal which exceeded the prime minister's expectations, his attention is now shifting to how to ensure that Britain is not marginalised or constantly outvoted by the 17 eurozone countries which will in future work together much more closely.
They will, he predicts, start to have more meetings alone and to set up their own bureaucracy.
He wants to ensure that they cannot go further - by caucusing to take decisions on other matters that are prejudicial to the 10 EU countries including Britain which are not in the Euro.
Ironically, our eurosceptic prime minister sees the EU Commission as the best safeguard of Britain's interests - providing, that is, it sees its role as standing up for the EU 27 and not the eurozone 17.
The government was angered by the last-minute cancellation of Monday's meeting of ECOFIN - the EU's finance ministers - and are insisting that, in future, meetings of the 27 must not be set aside for meetings of the 17.
Whitehall officials have been told to accelerate their work on what's called the re-balancing of Britain's relationship with the EU but Mr Cameron insists that it is wrong to assume that there will be an early opportunity for significant treaty change.
Not all of the 17 think it necessary or wise.
Not all the other 10 want changes to protect the so-called "outs" (those not in the Euro) since some regard themselves as "pre-ins" i.e. countries preparing to join the Euro.
Even if there was agreement in the EU for treaty change Mr Cameron would have to embark on the equally tricky task of getting agreement within his coalition.
What his comments reveal is that when - if - the eurozone crisis ends big political questions will replace the big economic problems which are now being confronted.