Iain Duncan Smith denies EU vote 'confrontation'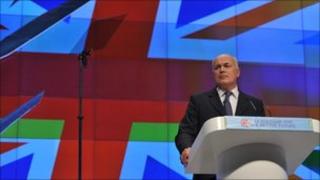 Iain Duncan Smith has denied having a "confrontation" with his chief whip over Monday's EU referendum vote.
He dismissed as "Chinese whispers" newspaper reports that he told Patrick McLoughlin: "If you ever put me in this position again, that's it."
But the cabinet minister did not deny objecting to the three-line whip on Conservative MPs to oppose the motion.
The government won the vote but 81 Tory MPs rebelled - the biggest ever rebellion against a Tory PM on Europe.
The work and pensions secretary rebelled against John Major's Conservative government over the Maastricht treaty, which created the modern day European Union in 1992.
'Wrong time'
Asked about his reported confrontation with the chief whip on BBC One's Question Time, he said: "Did I say that? Chinese whispers really, as far as I'm concerned.
"No, I haven't had that kind of confrontation with the chief whip, but that shouldn't stop the press having a good time with it."
Asked if he had not objected to the three-line whip - the strongest order that can be imposed on MPs - he said: "What I discuss with the party is another matter. I'm not going to really get caught up in that."
He went on to say that the "complicated" motion - called for a referendum on whether the UK should stay in the EU, leave it or renegotiate its membership - was "at the wrong time and on the wrong issue".
The government had "quite legitimately" felt it would be wrong at a time of "major crisis" in the eurozone, and had the power to tell its backbenchers how it thought they should vote.
"Having rebelled myself over Maastricht and over Europe before, my simple point is this - if you feel strongly enough about something then you take that principle and you make a decision and those who did, voted against," he said.
"So the idea that somehow you can bully and cajole everybody to do as they're told is complete nonsense. I didn't when my moment was right and they didn't this time round."
'No bad blood'
Mr Duncan Smith added: "I think it's right for a government to have an opinion and a view and if backbenchers feel strongly about it, that's fine.
"Let's not weep too many tears for people who have to make a choice. That's what you put them in Parliament for."
Monday's vote was on a backbench motion prompted by a petition signed by more than 100,000 people.
Many Conservative MPs were annoyed that their front bench ordered them to vote against it.
But following Monday's vote - which also saw one Lib Dem MP and 19 Labour MPs rebel against their parties to back the referendum - David Cameron said there would be "no bad blood" towards Tory rebels.
He said he did not regret the three-line whip, telling journalists: "In politics you have to try to confront the big issues, rather than try to sweep them under the carpet and that's what we did."
He has vowed to protect the UK's interests and, amid moves towards greater fiscal integration by eurozone members and possible treaty changes, to use the process to try to rebalance the UK's relationship with Brussels.
Nigel Farage, leader of the UK Independence Party, accused Mr Cameron, Lib Dem leader Nick Clegg and Labour's Ed Miliband of cynicism for closing down free speech and free voting on the issue.
He added: "All three political parties have made their minds up that we must be part of this new European state and the one thing they will make sure we can never ever do is to express our opinion on it."