Flood defence funding gap huge, warns Labour MP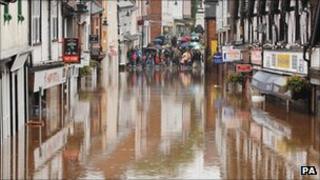 The one in six properties in England that are flood-prone are being put at risk by funding cuts and a lack of technical expertise, a report has said.
Public Accounts Committee chairman Margaret Hodge said a huge funding gap was opening up between flood defence maintenance costs and government cash.
A National Audit Office report says the Environment Agency needs another £20m each year to protect against flooding.
The government said under a new funding system, the private sector could help.
The NAO's report suggests the Environment Agency, which manages flood risk, would need 9% more of its budget from the government to deal with flood protection in the wake of climate change and ageing defences.
Yet that funding has been cut by 10% over the current Spending Review period from 2011-2015, compared to the previous four years, the report says.
Without an increase from 2015, communities would increasingly have to rely on locally-secured money, it adds.
Under the government's new funding system, local authorities have more responsibility for managing flood risks and raising money for flood defence schemes.
Some schemes to tackle flooding are expected to be part-funded by local bodies or the private sector - an example being Gatwick Airport's owners contributing to local flood defences.
However, the report says town halls have raised concerns about securing sufficient funds in the current economic climate and finding people with enough technical expertise.
Fewer than a third of councils told the NAO they felt they had the expertise to manage local flood risks.
Labour's Mrs Hodge said currently the private sector contributed on average less than £3m each year.
If they were to fill the gap, this would have to increase dramatically, she said.
"We will want to ask the department how this funding gap will be closed and seek assurance that greater local discretion will not come at the expense of national value for money," she said.
An environment department spokesman said: "We've reformed the funding system to allow the number of flood defence schemes to be increased and give local people greater choice and control over protecting their community from flooding.
"Under the new partnership funding system, the most at-risk and deprived areas can receive more money for flood defence schemes with funding from the private sector whenever possible."
Shadow environment secretary Mary Creagh said ministers were playing Russian roulette with people's homes and businesses.
"By cutting too far too fast, the government will leave communities blighted, with homeowners unable to insure, mortgage or sell their homes after 2013, when Labour's deal with the insurance industry runs out."