MPs query £425k Rural Payments Agency post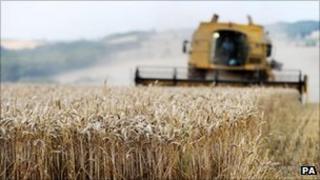 MPs have queried why a post in the much-criticised Rural Payments Agency has been paid a salary of £425,000.
Tory MP Neil Parish said farmers in his Devon constituency would not believe the highest paid post at Defra was an accountant at the RPA.
The RPA, an executive agency of Defra, has faced heavy criticism in recent years because of delays to payments.
MPs were told it was for an "interim finance director" who had been replaced by someone on a "much lower salary".
The issue came up at a meeting of the environment, food and rural affairs committee - where Environment Secretary Caroline Spelman was quizzed about whether RPA staff were getting bonuses.
'A way to go'
The RPA administers an EU subsidy for farmers for maintaining their land which was introduced in 2005 - but delays to payments in England, blamed on computer failures at the agency, cost millions of pounds and were described by MPs as a "fiasco".
Mrs Spelman began by saying said 99% of farmers were paid on time by the June deadline last year but she said there was "still a way to go".
She praised the new chief executive for improving the "professionalism and quality of the service provided" and there was a question about how to incentivise people who were improving the service.
Bronwyn Hill, the department's permanent secretary, said bonuses paid out to RPA staff had fallen - from 100% of staff getting "small bonuses" to 11.8% of staff this year, who were paid a median amount of £893.
But Mr Parish, himself a former farmer, queried the figure of £425,000 - £430,000, apparently paid to a job-share post in the RPA.
"We have had all this mess with the Rural Payments Agency. If I say to my farmers the highest paid person in Defra is an accountant in the RPA, albeit two of them sharing the same job, I think they might be slightly concerned, to say the least." He added: "It's just not going down well, is it?"
Mrs Spelman agreed it was a "very high salary". But the department's permanent secretary, Bronwyn Hill, said it was a legacy of interim appointments - made from the private sector - to fill roles at the RPA. She said the department had been focusing on replacing interim posts with full time, permanent staff to reduce costs.
"This is probably a historic legacy of having to pay people from the private sector to fill jobs which were quite difficult to fill," she said.
"The good news is we have since appointed, in July, the ex-finance director of Defra has moved across to the agency on a much lower salary than that."
She added that the new finance director was someone with a "track record of strong financial management" who was familiar with the RPA but promised to supply the committee with details of how long the higher salary had been paid.