Euro MPs vote on freezing expenses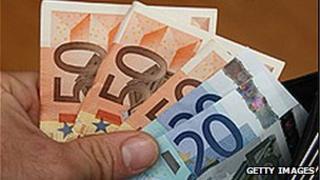 Euro MPs have voted to freeze their expenses at £44,000 a year, rather than vote on a cut to their benefit.
Rebels including Portuguese MEPs were pushing to reduce the allowance, which is granted without requiring receipts, by 5%.
But MEPs voted 484 to 168 in favour of keeping it the same before a vote to reduce the amount could be held.
Portuguese MEPs claimed it was a breach of procedure, which the parliament denied.
The suggestion to cut the allowance was put forward by Portuguese MEPs, including socialist Marisa Matias.
Initially they wanted a drop in the expenses allowance of 25%.
"We have been proposing several cuts," she explained, which included "getting MEPs to travel in economy class instead of business".
She said she was disappointed with the outcome.
"I don't think it is a very good message to pass to people that we are here to ask you to make sacrifices when we struggle to get through a cut of 5%."
MEPs supporting the expenses cut said even getting it tabled had been a struggle.
It was rejected initially by the budget committee in September.
Under European Parliament procedure at least 40 MEPs must support the proposal for it be discussed again by the full parliament, and 41 backed the reduction move.
One who did was Nigel Farage, UK Independence Party leader and MEP for the South East.
"Here we are with people struggling to pay bills in an age of austerity. The sensible thing for people in elected authority would be to set an example."
One MEP who did not support the cut was Baroness Sarah Ludford, Lib Dem Euro MP for London. She said her general expenses allowance was always spent in full.
"I am in favour of a freeze but not a cut. I run an office in central London and the rent and other expenses are very high. It all mounts up. I am very transparent about my expenses and anyone can look on my website to see what I spend."
On top of the general expenses allowance of £44,000 a year, MEPs get £260 a day for every day they are on official business.
They can also claim their travel and £17,000 a year to pay their staff, but this money can not be paid directly to the MEP.
The proposal comes as countries in the EU introduce their own austerity measures to cope with the eurozone crisis.
Greece is putting up VAT by 10% on restaurants and bars and raising general taxes.
Spain has cut government workers' pay by 5% and increased tobacco tax by 28%, and Portugal is also looking at cutting wages for top earners in the public sector.
Listen again to BBC Radio 4's You and Yours or catch up on BBC iPlayer.