Huhne attacks 'climate sceptics' in green energy vow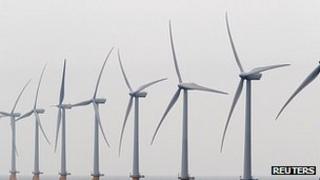 Energy Secretary Chris Huhne has criticised "climate sceptics" and others who he argues are decrying the UK's potential for renewable power.
Critics of the government's green energy agenda were "selling Britain's ingenuity short", Mr Huhne said.
The UK would be the largest market in Europe for offshore wind, he added.
His comments are being interpreted by some as a riposte to Chancellor George Osborne who is believed to be more sceptical about the investment needed.
In a speech to the Conservative Party conference last month, Mr Osborne said the UK would cut emissions "no slower but also no faster" than other countries as it would not help the environment to "put our country out of business".
The UK and other EU countries are committed to cutting emissions by 20% by 2020 although the last Labour government backed a target for an 80% reduction - excluding shipping and aviation - by 2050.
Providing jobs
Mr Huhne told an industry conference there was a consensus across the three main parties at Westminster of the need to make the UK a more attractive destination for investment in renewables.
Evidence of this was the £1.7bn which had been committed over the past year for projects creating 9,000 jobs, he said.
The UK aimed to be the "largest market in Europe" for offshore wind, the "best place" to invest in marine power and the "fastest growing" market for deployment of renewable technologies.
"Renewable energy technologies will deliver a third industrial revolution," he said.
"At a time when closures and cuts dominate the news cycle, next-generation industries are providing jobs and sinking capital into Britain."
While the UK was responsible for just 2% of the world's carbon emissions, it could grasp a far greater share of the renewables market, he added, but only if people woke up to its full potential.
He added: "I want to take aim at the faultfinders and curmudgeons who hold forth on the impossibility of renewables - the unholy alliance of climate sceptics and armchair engineers who are selling Britain's ingenuity short."
The UK would not save its economy "by turning our back" on renewable energy, he added.
"We will not heed the naysayers or the green economy deniers. With over £200bn worth of energy infrastructure needed by the end of the decade, this is our golden chance to deliver a greener future."
Some Conservative MPs have criticised subsidy levels for renewable energy at a time when energy bills are rising sharply and questioned whether the industry will ever be economically viable on its own or meet targets for the amount of energy it contributes.
'Insulting'
Simon Lees, from the right-leaning think tank the Policy Exchange, said Mr Huhne's remarks were "unhelpful".
"Conflating those who want to see cost-effective carbon emission reduction with climate science deniers is insulting," he said.
While renewables had a role to play as part of broad energy mix, he said spending billions of pounds on hugely expensive technologies such as offshore wind could not be justified in the current economic climate.
Environmental campaigners said the government needed to send out a "clear and coherent" message about their commitment to a full range of renewable technologies, including solar and wind power.
"It is increasingly clear that there's a green war at the heart of government," said Greenpeace's Louise Hutchins.
"On the one hand Chris Huhne is making a strong case for the strategic role renewable energy can play in creating jobs and reducing CO2 emissions, while at the same time George Osborne seems to be in perpetual denial about the benefits of investing in green growth."