Nick Clegg rules out lone UK 'raid' on EU powers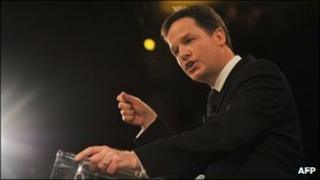 Nick Clegg has said the government will not launch a lone "smash and grab raid" on Brussels - as Tory Eurosceptics push for powers to be repatriated.
The deputy PM said any such attempt would be "condemned to failure" and the UK would have to first persuade other countries of the need for change.
It follows a huge Tory rebellion in the Commons on calls for an EU referendum.
David Cameron has said there may be opportunities in future to repatriate some powers from the European Union.
He ordered his MPs to vote against a backbench motion on Monday calling for a referendum on whether the UK should stay in the EU, leave it or renegotiate its membership.
'Smash and grab'
But 81 Conservative MPs, including two tellers, backed the call for a referendum. Two more actively abstained, by voting in both lobbies and 12 others abstained or missed the vote.
Mr Cameron told MPs he was "firmly committed... to bringing back more powers from Brussels" - his spokesman later said that was an expression of Conservative policy, rather than coalition policy.
But earlier the Conservative Education Secretary Michael Gove said the Lib Dems were in agreement that the balance of existing EU "competencies" needed to be examined.
Mr Clegg, leader of the traditionally pro-European Liberal Democrats, said he agreed some EU changes needed to be made - for example on the common fisheries policy.
But he said: "You don't change Europe by launching some smash and grab dawn raid on Brussels. You do it by setting out the case for changes and then arguing the case with other countries. We can't do this on our own, you have to build alliances, you have to convince and persuade other countries and that is what we look to do all the time."
He said pulling Britain "to the irrelevant margins of Europe... won't happen in a government of which the Liberal Democrats are a part". And he said it was no good worrying about "intergovernmental conferences and treaties that may never even materialise in the next few months and years".
He was backed by former Lib Dem leader Sir Menzies Campbell, who told BBC Radio 4's World at One: "We're up for co-operation and for alliances. That's how we get things done in Europe.
"It's a measure - if I may say so - of the fact that so many people on the Conservative benches don't, I think, understand that that is what Europe is. It is essentially a co-operative."
'Referendum lock'
The prime minister's spokesman said that as the current series of negotiations at the European level develops, the government will develop its thinking on how best to further the British national interest - including protecting the integrity of the single market and protecting financial services.
And Europe Minister David Lidington told MPs on Tuesday that work on a review of which powers held in Brussels could potentially be returned to the UK - contained in the coalition agreement - had begun and was "in its early stages".
Mr Pritchard, secretary of the Conservatives' backbench 1922 Committee, said he wanted to know what sort of treaty change in Europe would trigger a referendum in the UK.
A "referendum lock" was brought in by the coalition in the European Union Act 2011, aimed at guaranteeing that no major transfer of powers from London to Brussels can happen without a public vote.
Mr Pritchard said he wanted to know exactly what type of treaty change would spark a referendum: "It appears now that the policy may be only a big bang change would trigger a referendum - an incremental treaty change would not... My view is a treaty change is a treaty change.
"So we need some definition, we need some clarity and hopefully that will be forthcoming over the coming days. If we don't have that clarity I think the government's position on Europe is politically unsustainable."