William Hague urges Tories to oppose EU referendum vote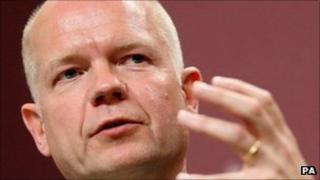 Foreign Secretary William Hague has urged Tory MPs not to vote for a referendum on the UK remaining in the EU, saying it would be a distraction.
On Monday, MPs are due to debate a motion which calls for a referendum to be held on UK membership of the EU.
Writing in the Daily Telegraph, Mr Hague said solving the eurozone finance crisis should be the priority.
He said a referendum would add to economic uncertainty when businesses need all the certainty they can get.
Mr Hague, a prominent eurosceptic, wrote: "As a Conservative, I want to bring powers back from Europe, as we set out in our election manifesto.
"But a referendum on Britain's membership of the EU, especially at this time of profound economic uncertainty, is not the answer."
The foreign secretary added: "Nothing would do more to help our economic recovery than a resolution of the eurozone's difficulties, while its disorderly break-up would have a very serious impact on our economy."
'A big issue'
The Conservatives, the Lib Dems and Labour will all ask their MPs to oppose the motion calling for a referendum to be held on UK membership of the EU.
The motion calls for a referendum by May 2013 and says the public should have three options put to them in the nationwide vote - keeping the status quo, leaving the EU or reforming the terms of the UK's membership of the EU.
Campaigners for a referendum are holding a day-long meeting in Westminster to try to gather public support. About 1,500 people were attending, including Conservative MP Zac Goldsmith.
He said he was supporting a referendum "because there is huge demand for one".
"We've been promised so much by politicians for so many years now, people are just fed up; they want their say."
He added: "It is one of the biggest issues we could possibly face."
He said there should be a free vote for MPs in Monday's debate as it "transcends party lines".
'Positive participant'
A large number of MPs are expected to back the proposal, which was put forward by Tory MP David Nuttall, although a vote in favour would not be binding on the government.
In the coalition agreement, the Conservatives and the Lib Dems, a traditionally pro-European party, agreed to "ensure that the British government is a positive participant in the European Union, playing a strong and positive role with our partners".
On Friday, Deputy Prime Minister Nick Clegg said it was the worst time for a debate about Britain leaving the EU as a "firestorm" engulfs the eurozone.
Labour leader Ed Miliband has said the prospect of a referendum would create further "economic uncertainty" and urged David Cameron to "show leadership" rather than make concessions to his backbenchers.
A separate event was also being held in London on Saturday - by pro-Europe think tank the Federal Trust and the Federal Union.