Liam Fox faces standards inquiry over flat share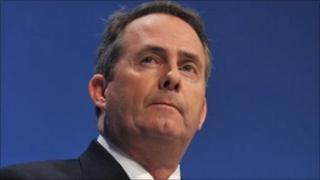 Former Defence Secretary Liam Fox faces a standards investigation into claims he allowed a friend to stay in a taxpayer-funded flat rent-free.
Parliament's standards commissioner John Lyon confirmed on Wednesday that he had accepted the complaint - made by the Labour MP John Mann.
Mr Mann says the case mirrors that of MP Ian Gibson, who quit as a Labour MP in 2009 over his expenses.
Mr Fox said he would "fully answer" all the questions raised in the complaint.
The North Somerset MP quit as defence secretary last week over his links to Adam Werritty.
Cabinet Secretary Sir Gus O'Donnell has already published a report on the working relationship between Mr Fox and his friend, who frequently met up with him on overseas visits, at the Ministry of Defence, and carried business cards describing himself as Mr Fox's adviser.
'Array of issues'
Sir Gus concluded that Mr Fox breached the ministerial code and noted that he had been warned about his links with Mr Werritty by both his private office, and his permanent secretary.
Mr Lyon, who investigates MPs for rule breaches, including those made under the old expenses scheme, is to look at separate claims that Mr Fox allowed a friend to stay at his London flat rent-free for months in 2002 and 2003.
A spokesman for Mr Lyon said: "The commissioner has received a complaint from John Mann and he has accepted it."
According to the Daily Telegraph, Mr Werritty stayed at the MP's flat in Southwark, south London - for which Mr Fox had claimed about £1,400 a month in expenses to cover mortgage interest payments under the old expenses scheme.
It also said Mr Werritty had listed the flat's address when he registered himself as a director of a defence consultancy he set up.
No rent requested
The newspaper published a statement from Mr Fox two weeks ago saying: "I have never sublet or rented out the whole or any part of the flat.
"A friend used the spare room in the flat for a number of months in 2002-03. No rent was requested or paid. To the best of my knowledge there has never been a company registered at this address whilst I have owned the property."
Mr Mann, who has separately made a complaint to City of London police about Mr Werritty's use of business cards describing himself as an adviser, said the case was similar to that of the former Labour MP Mr Gibson.
"There are an array of issues that need to be looked at," he told the BBC News Channel.
"That is why it is appropriate that there are further investigations."
At the height of the 2009 expenses scandal, Mr Gibson was one of several Labour MPs barred from standing again for the party by its "star chamber" internal disciplinary panel.
Mr Gibson's case revolved around a west London flat he designated as his second home, on which he claimed expenses for mortgage interest. He said at the time that the flat was his second home but confirmed his daughter and her partner were living there rent-free at the time and "took over the mortgage" after he moved out.
Rather than remain as an MP until the next general election, Mr Gibson quit - prompting a by-election in his Norwich North constituency which was then won by the Conservatives. Some Labour MPs felt Mr Gibson had been badly treated by the party.
Responding to Mr Lyon's announcement, Mr Fox said he would "fully answer all questions raised in the complaint made against me in accordance with the inquiry.
"I will work with the office of the commissioner to ensure that this is done as soon as possible," he added.