'Social value' to become factor in public services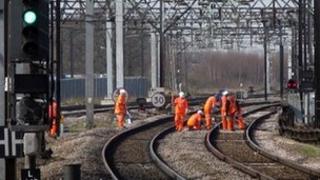 Councils, government departments and bodies like the NHS could be required to consider "social value" - as well as cost - when awarding contracts.
The plans are part of a private member's bill put forward by Conservative MP Chris White.
He says it would apply to any public services or works, such as the construction of buildings and railways.
The bill has cross-party support, but Labour have accused the government of cutting some of its key clauses.
If it becomes law, it would also apply to police, fire and rescue authorities and even the House of Commons itself, and cover services like accounting, auditing and advertising, the provision of education, care and recreation facilities, and the commissioning of works like fire alarm systems.
'Best practice'
At present, a procurement manager within any public body has to achieve "best value" for taxpayers' money - the cheapest provider who can meet the quality requirement.
However, Mr White's bill would require them to consider how a service or project could be procured in a way that might improve the economic, social and environmental wellbeing of their area - and where appropriate, to write that social value objective into the contract process.
The Warwick and Leamington MP uses the example of two bidders for a contract to refurbish social housing - the first offers the cheapest price, the second costs more but promises to take on local unemployed people and teach construction skills in schools.
He says the bill would allow councils to look beyond a narrow concept of value for money and choose the second option.
"I think the bill is needed to make what is essentially best practice for many public organisations, become standard practice," he said.
"It will send out a powerful message to charities, voluntary organisations and social enterprises up and down the country that we want greater involvement; we want to support them and we want to give them a greater role in our local community life.
"This culture change in public sector commissioning could have a big impact across the services that we use every day, from adult social care to recycling, so the potential is huge."
Mr White says social value could have given those involved in making the controversial Bombardier decision - which saw the Derby-based rail company lose out on a £1.4bn contract to German rival Siemens - extra factors to consider.
Campaigners have called for the government to reverse the decision given the huge impact of the loss, but ministers say they are bound by bidding rules which state the contract had to go the best value bid.
Mr White says he believes social value could have considerable wider benefits to British businesses, and his bill has the backing of the Federation of Small Businesses who believe it could help small and medium-sized enterprises win public sector contracts.
'No brainer'
Minister for Civil Society Nick Hurd has tabled more than 20 amendments to the bill, which include inserting a clause stating that social value could be "disregarded" in cases where the need for urgency is paramount.
The bill also originally included a requirement for the government to publish a "national social enterprise strategy", and another clause committing local authorities to promoting social enterprise in their area.
Both of those clauses have been removed - as have the words "social enterprise" from the title of the bill, which reached the Commons committee stage last week.
But Social Enterprise UK - which represents firms with a stated social or environmental aim - warmly welcomed the bill and said it "would embed social value into the procurement process".
"Social enterprises and charities would still be competing with private sector providers who too would be asked to add social or environmental value," chief executive Peter Holbrook said.
He added: "It's a no brainer. This is an opportunity for the country's leaders to prove that they're serious about the Big Society as a policy."
Mr White said he was also not worried about the amendments, and the "urgent cases" clause was sensible - for example, to procure services in situations of national emergency.
But Labour's shadow minister for civil society Gareth Thomas accused the government of wanting "to axe plans for vital legal requirements which could have helped social enterprises to flourish".
"This measure would have forced those working in government and local government to think through how they could promote the growth of social enterprises and could have been a huge shot in the arm for the sector," he said.
A Cabinet Office spokesman said the amendments "would focus the bill exclusively on pre-procurement and services" in order to "better pinpoint the types of contracts which have the greatest direct impact on individuals and communities".