Liam Fox was warned about Werritty - O'Donnell report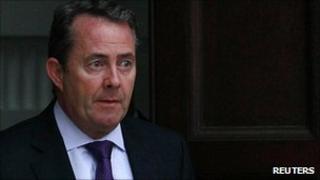 Former Defence Secretary Liam Fox was warned about his working relationship with Adam Werritty, an official report says.
Sir Gus O'Donnell's report says the risks were raised with him by both his private office and permanent secretary.
The Cabinet Secretary said there was a "failure of judgement" by Mr Fox, for which he took ultimate responsibility.
The report says there was a "clear breach" of the ministerial code but Mr Fox did not benefit financially.
Mr Fox resigned on Friday, saying he had allowed his personal loyalties and professional responsibilities to become "blurred".
It followed a week of pressure about his links to Mr Werritty, a friend who was not an employee of the government, or Conservative Party but who had met up with Mr Fox on 18 overseas trips and had carried cards describing himself as his adviser.
'Security risk'
Sir Gus's report highlights a meeting in the UK with Matthew Gould - then the UK ambassador designate to Israel - in September 2010 at which Mr Werritty was present. It says "as a private citizen, with no official locus, it was not appropriate for Mr Werritty to have attended this meeting".
Mr Werritty's use of the business cards "may have been confusing for foreign governments and representatives who may not have understood the differences between a person acting as an external adviser, and an adviser to government", it says.
The cabinet secretary also says Mr Werritty had access to Mr Fox's diary - which posed a "degree of security risk" to Mr Fox and any officials accompanying him, which Mr Fox had accepted was "not appropriate".
The former defence secretary is also criticised over two meetings - one in Dubai, set up by Mr Werritty, with a potential defence contractor and another in Tel Aviv with "senior Israelis" and the UK ambassador. A member of his private office should have been present at both, the report says.
But it says Mr Werritty was not a lobbyist - as he has been described - and there was no evidence public funds were misused.
It names six donors to Mr Werritty's not-for-profit company Pargav - some of whom had donated previously to Mr Fox or the Conservative Party - and says that his links to Mr Fox "could at least be seen as giving rise to the perception of a conflict of interest".
It says Mr Fox "should have declared to his permanent secretary that Mr Werritty was a friend who had a company, Pargav, which was funded by a number of donors, some of whom had provided funding to Dr Fox when in Opposition".
But it says there is "no evidence that Pargave sought to win contracts from the MoD or to influence procurement decisions".
The report adds: "The risks of Dr Fox's association with Mr Werritty were raised with Dr Fox by both his private office and the permanent secretary."
'Take responsibility'
It says Mr Fox took action to stop Mr Werritty using business cards describing himself as an adviser "but clearly made a judgement that his contact with Mr Werritty should continue".
"This may have been a reasonable judgement had the contacts been minimal and purely personal and had not involved Mr Werritty's frequent attendance at meetings in the MoD main building and on overseas visits."
In conclusion, the report says Mr Fox "did not live up to" standards of behaviour expected of ministers and there was a "failure of judgement on his part for which he has taken the ultimate responsibility in resigning".
Mr Fox said: "I am pleased that the report makes clear that the two most serious allegations, namely of any financial gain sought, expected or received by myself and any breach of national security, have no basis.
"As I said in the House of Commons last week, I accept that it was a mistake to allow the distinctions between government and private roles to become blurred, and I must take my share of the responsibility for this."
He said he should have taken more care to ensure no-one thought Mr Werritty was speaking on behalf of the government and that all private interests should have been "fully declared to the permanent secretary".
A Downing Street spokesman said the prime minister had accepted Mr Fox's resignation and his reasons for resigning and had been "sorry to see the departure of a defence secretary who had implemented fundamental changes that will help to ensure our Armed Forces are fully equipped to meet the challenges of the modern era".
He added: "This government has already introduced changes that significantly increase government transparency - publishing lists of meetings with external organisations and all procurement over £500."
New procedures
He said procedures would now be strengthened throughout the government to ensure "that the Ministerial Code is properly adhered to in future".
On Tuesday Downing Street revealed that Mr Werritty had met two other defence ministers - Lord Astor and Gerald Howarth but said there was no record of him coming to Downing Street.
Labour have said further details must be made public of any donations Mr Fox or Mr Werritty solicited on behalf of organisations they were involved with as well as the extent of meetings the lobbyist had with other cabinet ministers.
Shadow defence secretary Jim Murphy said the prime minister should make a Commons statement as the report only "scratched the surface" about what had happened and there were "still big questions about responsibility and openness in government".
"David Cameron should share all the facts with the public not hide behind a superficial 10-page report," he told the BBC.
Speaker John Bercow refused a Labour request for an urgent question on the issue to which ministers would have to respond.
But the Speaker later indicated the report could be debated by MPs on Wednesday - possibly after Prime Minister's Questions - suggesting that if no ministerial statement on the row was forthcoming, another request for an urgent question would be granted.
Mr Fox could make a statement of his own to MPs but only after any ministerial response.