Liam Fox broke ministerial code, official report to say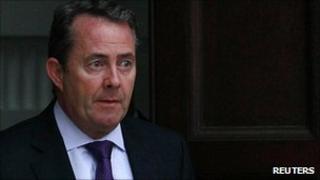 Former Defence Secretary Liam Fox broke the ministerial code in his dealings with his friend Adam Werritty, an official report is expected to find.
But Cabinet Secretary Sir Gus O'Donnell is also expected to say Mr Fox did not gain financially from the arrangement.
Downing Street said Mr Werritty had also met defence ministers Lord Astor and Gerald Howarth.
Labour leader Ed Miliband is expected to call for David Cameron to make a Commons statement on the report.
Mr Fox resigned on Friday, saying he had allowed his personal loyalties and professional responsibilities to become "blurred".
Narrowly focused
He had been criticised for his conduct in relation to Mr Werritty, a lobbyist who had claimed to be Mr Fox's adviser, joined him on 18 foreign trips and arranged at least one meeting for him, despite having no official government or Conservative Party role.
Questions have also been raised about how Mr Werritty - Mr Fox's best man in 2005 - funded his business activities and whether he had gained from his frequent access to the former defence secretary.
On Tuesday Downing Street revealed that Mr Werritty had met two other defence ministers but said the Foreign Office had no record of their ministers having met him, nor was there any record of Mr Werritty attending meetings in Downing Street.
The prime minister's official spokesman said: "There is no record of him coming to Downing Street. The prime minister has no recollection of meeting this person. He was not aware of his name, until he was talked about by the media."
Mr Cameron said at last week's prime minister's questions that he was "very happy to look at" a Labour MP's request that a full list be published of Mr Werritty's meetings with all ministers and Downing Street staff since May 2010.
But the prime minister's spokesman indicated a full list may not be published.
Mr Miliband was expected to table an "urgent question" - urging the prime minister to make a Commons statement about the report.
But the PM's spokesman said there would be a "short written statement" from Downing Street and there were no plans for a ministerial statement in the Commons.
He added: "What we were trying to establish was whether or not the conduct of a minister had been appropriate. The fact is that Liam Fox made his own conclusions on Friday and resigned. That is the purpose of the report - to look at the conduct of a minister and that it does."
Atlantic Bridge
Tuesday's report is expected to conclude that Mr Fox had breached the ministerial code of conduct, which requires ministers to avoid a conflict of interest or the perception of any conflict between their public duties and private interests
It will also say that Mr Fox made no financial gain from his dealings with Mr Werritty.
The BBC News Channel's chief political correspondent Norman Smith said the report was expected to be eight or nine pages long and quite narrowly focused on Mr Fox and the ministerial code.
But he said there were questions about why the report did not go wider to look at who was funding Mr Werritty and whether other ministers had meetings with him.
Labour have said further details must be made public of any donations Mr Fox or Mr Werritty solicited on behalf of organisations they were involved with.
These include Atlantic Bridge - a now defunct charity Mr Fox founded to promote Anglo-American relations - and Pargav, which Mr Werritty reportedly set up as a not-for-profit company to fund his trips abroad.
Labour's shadow defence minister Kevan Jones told the BBC: "David Cameron last week said that this report would cover all the remaining questions and if it's narrowly focused, it won't.
"We need to know, not only what Liam Fox was up to, but the relationships not only with the donors but all other cabinet ministers that were clearly involved with Dr Fox's Atlantic Bridge organisation."
Venture capitalist Jon Moulton has said Mr Fox approached him personally after the 2010 election seeking funds for Pargav, which he was told was involved in "security policy analysis and research".
BBC business editor Robert Peston said Mr Moulton had passed all the evidence, including all relevant emails, to Sir Gus on Friday, prior to Mr Fox's resignation.
Downing Street has not said whether the report by Sir Gus O'Donnell, the UK's most senior civil servant, will be published in full or whether some details will be redacted.