Speaker outlines new security following Murdoch attack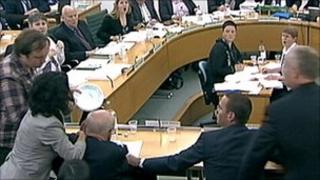 Commons Speaker John Bercow says planning for Rupert Murdoch's appearance before MPs was "inadequate" and promised new security measures.
The News International boss was attacked with a foam "pie" while answering questions from a committee of MPs about phone hacking.
Mr Bercow told MPs he had accepted the findings of a report into the incident.
Recommendations include visitors being banned from taking bags into hearings and a new role of head of security.
Mr Bercow also said there would be more "physical security" within committee rooms.
Serjeant at Arms Jill Pay, the official in charge of security at the Palace of Westminster, last week announced she would retire in January.
In a statement to MPs Mr Bercow said the report into the incident had recommended that creating a post of "director of security" should be reconsidered.
Mr Bercow commissioned the independent review of security arrangements after the incident at the culture, media and sport committee.
'Chaotic'
Jonathan May-Bowles was jailed over the July incident.
Mr Bercow told MPs: "The review found that, at the time of the attack, none of the security staff in the room was in a position to be able to reach the assailant before he got to Mr Murdoch.
"Those present commented upon the chaotic nature of scenes inside and outside the committee room following the incident.
"The inadequate security in the room was the result of a serious failure of planning for this event, based upon the wrong assessment of risk.
"These, and other deficiencies, should have been recognised and rectified in advance. They were not."
Mr Bercow said he wanted the public to still be able to access committee hearings but equally important was the "duty to protect the personal safety of witnesses".
Mr Bercow said he would hold talks with Lord Speaker Baroness D'Souza about the creation of a new security director for Parliament.