No 10 'will not speed up lobbying industry regulation'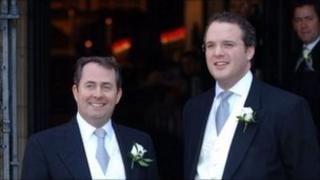 Downing Street says the government is not going to speed up its proposals to regulate the lobbying industry in response to the Liam Fox row.
The prime minister's official spokesman said: "These are separate things. There's always been a policy to move to a statutory register [of lobbying]. That work has been ongoing."
Sir Gus O'Donnell's report on Mr Fox is expected to be published on Tuesday.
Anything relevant to lobbying in it "would be taken into account".
The No 10 spokesman added that he expected the government consultation on its plans for statutory regulation of lobbying to begin "quite soon", with legislation introduced next year in the second session of Parliament.
The spokesman also refused to say how and when a list would be published of Adam Werritty's meetings with ministers other than Liam Fox.
'Greater transparency'
There had been an expectation the list would be published alongside Sir Gus O'Donnell's report, but the spokesman refused to go beyond the PM's remarks last week that the list would be "looked at".
The statutory register of lobbyists was part of the coalition agreement and Deputy Prime Minister Nick Clegg had said it would be included in a bill this year - but the Downing Street spokesman's timetable suggests legislation will not be introduced until after May next year.
Labour leader Ed Miliband said he was "happy" with the principle of a register although it must not become a "bureaucratic nightmare".
"There does need to be greater transparency," he told Sky News.
"People have a right to know who we meet and how we meet them."
But the Lib Dems said Labour had opposed greater openness about lobbying when they were in government.
"Liberal Democrats are the only party to have consistently called for reform of the rules around lobbying. That is why there is a commitment to introduce a statutory register of lobbyists in the coalition agreement," party president Tim Farron said.
MP's work
Meanwhile Conservative MP Robin Walker has defended his employment by the public relations and lobbying firm Finsbury.
Finsbury offers services including "advice and training for senior executives appearing before Parliamentary Select Committee hearings" and "provision of political intelligence".
Mr Walker, who was a partner at Finsbury before the election, has declared in Parliament's Register of Members' Interests that he received £35,500 from the company between August 2010 and August 2011.
His list of clients include the mining firm Rio Tinto, the engineering company Tomkins, Hochschild Mining and African Barrick Gold.
Mr Walker told BBC Radio 4's World at One that he did not deal directly with those companies, and that he only gave advice on investor relations and other financial matters.
"I can be very clear that the nature of the work is simply supporting my colleagues who work on those teams with some of the ideas and some of my experience in the financial PR work that they do," he said.
"It has nothing to do with any kind of political or regulatory work. I was advising those clients at the top level before getting elected and I think they consider that to be a useful continuing relationship."
Mr Walker said his employment had not broken any rules and he supported the introduction of a statutory register of lobbyists.
'Limited part-time basis'
Finsbury has denied breaching the Public Relations Consultants Association (PRCA) code of conduct by employing Mr Walker.
The code states "political consultants must not employ any MP" or "make any award or payment in money or in kind... to any MP".
In a statement, Finsbury said Mr Walker was not employed as a political consultant.
"It is for the PRCA to investigate any complaint, but we do not believe we have broken any rules," it said.
"As political consultants under the terms of clause eight of the PRCA Code, we list all our clients and personnel on that side of our business and we do not retain any MP for political or lobbying purposes.
"Robin Walker is retained on a very limited part-time basis solely on the PR side of our business, as his published entry in the House of Commons Register of Members' Interests makes clear."