Liam Fox inquiry must continue - Labour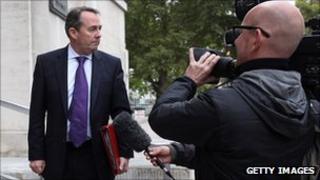 The inquiry into Liam Fox's conduct should continue despite him stepping down as defence secretary, Labour says.
Mr Fox resigned after a week of pressure over his working relationship with his friend, Adam Werritty. He has been replaced by Philip Hammond.
Labour says it is unclear who paid for Mr Werritty's trips abroad with Mr Fox.
Venture capitalist Jon Moulton on Friday said Mr Fox approached him after the election seeking funds for a company set up by Mr Werritty.
The Times newspaper reported that Mr Werritty set up the firm, Pargav, as a not-for-profit company to fund his trips abroad.
Mr Moulton said he was told Pargav was involved in "security policy analysis and research".
According to the Daily Mail, Mr Moulton bought a defence company eight months before giving money to Pargav.
Flow of money
Mr Fox's conduct is being investigated by Cabinet Secretary Sir Gus O'Donnell and a report is due to be published early next week.
It is expected to be very critical of his actions.
The defence secretary had been under intense pressure this week after it emerged that Mr Werritty had met him 22 times at the MoD and joined him on 18 overseas trips since he came to office last year - despite having no official role.
Labour has called for a broader investigation into the rules governing ministerial conduct.
Shadow defence secretary Jim Murphy said there were still many unanswered questions, such as who was funding Mr Werritty's global travels, why were they doing it and why was it allowed to continue for so long.
Mr Werritty, a former flatmate of Mr Fox and the best man at his wedding, handed out business cards suggesting he was his adviser and was present at meetings Mr Fox had with military figures, diplomats and defence contractors.
Questions have been raised about who paid for Mr Werritty's business activities and whether he had personally benefited from his frequent access to the defence secretary.
"What is the flow of money?" asked Mr Murphy.
"Liam treated Adam Werritty as a good friend. Adam Werritty seems to have treated Liam Fox like some sort of franchise to make money from.
"So we need to know as part of the inquiry just where's the money? Why has Liam resigned? Let's continue to carry out the investigation and if need be, broaden the investigation further."
Mr Murphy said Mr Fox's resignation could not be the end of the matter. "Only Liam Fox knows the truth - the whole country's entitled to know the truth and that's what we need to get to the bottom of".
The BBC understands officials at the Department for International Development had raised concerns about Mr Werritty's involvement in Sri Lanka where, it is claimed, defence contracts were being touted.
'Sad circumstances'
In a swift reshuffle by the prime minister, the defence secretary was on Friday replaced by Transport Secretary Mr Hammond. Treasury minister Justine Greening was handed Mr Hammond's post - becoming the fifth woman in the Cabinet.
On his first day in the job, Mr Hammond said it was a "great honour and privilege".
"My first priority is going to be the successful completion of the missions that the armed forces are currently engaged in and then the completion of the implementation of the Strategic Defence and Security Review to make sure that our armed forces are sustainable going into the future."
The former First Sea Lord and Labour Security Minister, Lord West, told BBC Radio 4's Today programme he did not think Mr Hammond was really a defence expert.
"I think he's one of these people who does understand money and costs and that sort of thing, but I'm not sure that he's really a man with a great knowledge of defence."
But the BBC political correspondent Gary O'Donoghue says someone who understands money might be exactly what the MoD needs, given the procurement problems it has had.
He says Mr Hammond has been a safe pair of hands in transport and proved he could add up while in opposition.
Conservative MP Peter Bone told BBC Newsnight it would have been in the national interest for Mr Fox to remain defence secretary.
"He put, of course, the country first rather than his personal career and resigned, because the media was in such a frenzy it was distracting from the job and he decided to go and I think that was typical of Liam," Mr Bone said.
Some of the newspapers have also praised Mr Fox, with the Daily Telegraph saying even his opponents acknowledged his tenacity.