Liam Fox: Why he might go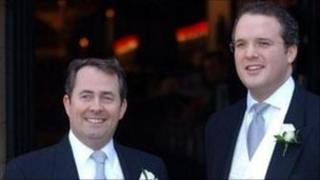 For some days the case for the defence of Liam Fox has been emerging. Adam Werritty was a friend who wrongly presented himself as a formal adviser.
He was funded not by those lobbying for defence contracts or giving cash for access to the minister but by those who shared his ideological leanings.
The Times' revelations of the names and beliefs of Werritty's wealthy backers - pro America, pro Israel, pro the Fox plan for Sri Lanka - back up the defence secretary's version of events.
So, why then do government insiders think that Mr Fox is living on borrowed time?
1. Whatever the defence secretary says, many will judge that Adam Werritty acted as his adviser.
His business cards stated he was an adviser, he booked hotels as an adviser, he fixed meetings with people who believed he was an adviser.
Finally, he raised funds from people who thought that too. The Times reports that the sole director of the not-for-profit company set up to fund Werritty regarded him as "an adviser of some sort to Dr Fox".
2. Ministers are allowed to have official political advisers but they are governed by strict civil service rules.
3. Ministers are, of course, also allowed to have friends and informal advisers but they are not allowed to fix meetings for them or act on their behalf operating as freelancers outside civil service oversight and control.
4. Whether Werritty was an adviser or friend or both, the permanent secretary at the Ministry of Defence should have been told about the potential for conflict of interest.
5. Liam Fox has already admitted, in effect, to breaching the ministerial code which tells ministers to avoid perceptions of conflicts of interest.
On Sunday he declared that: "I do accept that given Mr Werritty's defence-related business interests, my frequent contacts with him may have given an impression of wrongdoing, and may also have given third parties the misleading impression that Mr Werritty was an official adviser rather than simply a friend".
6. Even if the money paid to Werritty was given for ideological and not commercial reasons there is no clear distinction between the two in practice.
One of Werritty and Fox's backers Michael Hintze runs a hedge fund which, as the FT reveals, had defence investments. There may be other examples still to emerge.
7. David Cameron would face real embarrassment if he ignored his own words in the introduction to the ministerial code which stated that:
"Our new government has a particular and historic responsibility: to rebuild confidence in our political system. After the scandals of recent years, people have lost faith in politics and politicians. It is our duty to restore their trust.
"We must be different from what has gone before us. Careful with public money. Transparent about what we do and how we do it. Determined to act in the national interest, above improper influence".
Cameron's dilemma
So, why hasn't the defence secretary gone already?
David Cameron says he wants to see the full facts before making a decision. The problem he may face is that "the facts" may allow people to draw different conclusions.
The civil service - and many outsiders - will, I suspect, believe that Mr Fox has allowed himself and them to be compromised.
Many Conservatives may want to hang on to someone who was behaving carelessly but, as they will see it, for the right reasons.
For all the talk of codes and enquiries, the prime minister faces what all his predecessors have - a political choice.
Sack Liam Fox and risk anger in his own party and the creation of a charismatic ideological enemy. Keep him and risk being seen to have compromised what you said you believe in.