David Cameron LinkedIn: Social media in UK politics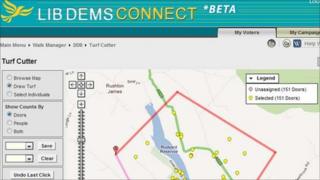 David Cameron has signed himself up to business networking website LinkedIn - proof positive, if it was needed, that politicians' obsession with social media continues undaunted.
But LinkedIn is positively ancient compared with some online upstarts - "iPhone canvassing", "checking in" and lots and lots of "sharing". Even Facebook and Twitter are looking a bit 2009.
Yet they're still very important to politics - or, more specifically, politicians.
Just a few days ago the Commons voted in favour of allowing MPs to tweet from inside the Commons chamber - and all three of the main party websites have the Twitter and Facebook icons front and centre.
Ed Miliband has done several "Ask EdM" events on Twitter and recently included some tweeted questions in his live Q&A at the Labour conference.
Foreign Secretary William Hague regularly does a similar thing - under the hash tag #AskFS.
'Connections'
You might think that as prime minister, David Cameron is as "linked in" as a person could get, but perhaps not.
He's now extended his "digital presence" by signing up to business networking website LinkedIn.
LinkedIn is actually one of the older players in this game, set up in 2003, and is aimed at putting professionals in touch with each other, or getting their name in the frame for job opportunities.
If you do a search for David Cameron you get more than 3,000 results and it takes a bit of filtering the results to find the prime minister.
By Tuesday morning, the PM - who lists his area of expertise somewhat understatedly as "government administration" - has 52 "connections". His profile lists his jobs to date in Parliament, and before entering politics, and also mentions his wife and kids.
Downing Street says the aim is "to connect in the online places where business connects" - with virtual friendships being made "to reflect the people and businesses the prime minister comes into contact within the course of his duties".
In doing this, he's reportedly following the lead of UK Trade & Industry advisers who use LinkedIn to help British companies boost exports.
David Cameron is also on Foursquare, a much newer kid on the social media block.
As part of the trend for all things location-specific and individually tailored, it allows users to "check in" to show their precise whereabouts to those that follow them.
And while a blow-by-blow account of the PM's every move would give his bodyguards sleepless nights, Number 10 says the idea is to "illustrate the events the prime minister participates in during his day-to-day duties beyond Downing Street".
He recently checked into the United Nations HQ in New York, for example.
Local database
The Lib Dems' next big thing - "a cutting edge new campaigning tool", as they put it - is, in the style of many political trends, poached from across the Atlantic.
Due to be up and running by the end of the year, Connect is based on the technology used by Barack Obama during his presidential campaign - and is actually being created by the same company, Voter Activation Network.
No party can get elected without knowing who its supporters are and getting them to turn up at the ballot box.
That's what Obama's campaign did so well.
One of the tools it used was a very localised database - street by street, in fact. The Democrats had a pretty good idea which houses in any given street were on their side, the other side or undecided. Any activist who visited those houses could update the database to record any changes in political preference.
The Lib Dems, using the same principle, will identify the yellow houses - and help to ensure those supporters get out to vote on polling day. They'll also be able to spot the red, blue or colourless properties that might be turned yellow with a push.
They say it will be "a huge leap forward in how we campaign on the ground".
The Connect software will also help with local political organising and allow so-called "iPhone canvassing".
So, rather than pitching up on a doorstep with a soggy sheaf of papers, the activist will arrive armed with just their smart phone, complete with all the latest campaign info, policy announcements, and so on.
'Text offensive'
For their part, Labour have started what they call their "campaign engine room" - a site where people can set up their own online campaigns.
Not dissimilar in some ways to the government's e-petitions idea, it allows people to create online petitions on a topic of their choosing.
It also features big campaigns run by the party itself. One of the most recent is "Back the Apple" - promoting fairness in the countryside - which, it boasts, is social media-based and includes both a viral video and a "text message offensive".
Labour are also big on the idea of "sharing" - their main website takes people directly to the campaign of the day and encourages them to share it with friends and family on Facebook, twitter or email.
They are also utilising Google+ which for the uninitiated, is also all about sharing - content, videos, idea, discussions.
It's based on a similar idea to hash tags in Twitter - if something tickles you or gets you thinking, share it. In this way, lots of disparate people can be made to feel like they're part of the same conversation - or even, community.
Once you've created that community, the hope is you can mobilise it to your cause.
And on the subject of mobilisation, a key part of Ed Miliband's early months as leader has been the Refounding Labour project.
Similar to Barack Obama's ideas, he wants to build up a grassroots Labour network now - predominantly via online sign-ups.
Then, so the theory goes, if you can cement that support during the fallow opposition years, you can make sure that - possibly with some sort of as yet uninvented virtual stick - those voters will make it to the polling station in 2015.
Here are some of your comments on this story:
I'm less concerned about HOW our politicians communicate, and rather more interested in WHAT they're communicating. They all seem to be relying on the idea that 'the medium is the message', and hoping that no one will notice that they aren't actually saying anything that's of any use to anyone! Tracey, Wrexham
Sounds good, doesn't it? Then ask yourself just how many hours do you have in your day. When you already have a job that requires you be available 24/7 how can you take on any additional link that will be used quite extensively? Have staff to do the work? Then that defeats the whole object. I suggest that a letter will get more attention. I cannot find the time to deal with everything that comes into my inbox, and I am retired! Peter, Cardiff
I've seen the prototype of Connect and it is infinitely better than the current system (an updated version of which crashed in the demo at the last Lib Dem conference). What systems the other parties use and how they compare would be quite interesting to find out though. Rory, Worcester
Instead of the business community, why not get in touch with real people? Those who can't afford fast broadband for a start. Pensioners mainly. Stuart, Gravesend, Kent