Ed Miliband calls for an emergency budget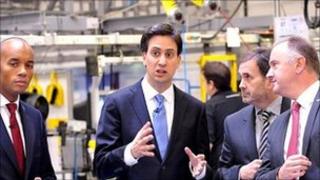 Labour leader Ed Miliband has called for an emergency budget, saying the government needs to show a "greater sense of urgency" about the economy.
Speaking at a college in Southend he said the country was in an "economic emergency" and needed to change course.
His comments came ahead of a launch of a Labour "campaign for jobs and growth" after unemployment hit a 17-year high.
Prime Minister David Cameron says Labour's proposals would "send our economy into a tailspin".
Labour launched its "plan for jobs" a day after figures showed unemployment rose by a further 117,000 to 2.57 million in the three months to August, with the number of 16-24s out of work rising to more than 990,000.
'Dangerous times'
Mr Miliband said these were "dangerous times" for the economy and yet ministers were "fiddling around with small changes".
"This is an economic emergency," he said. "Only a government which is badly out of touch with what is happening in Britain's factories, its high streets and its homes would fail to realize that."
Unveiling their "plan for jobs", the Labour leader and shadow chancellor Ed Balls called for:
A one-off bank bonus tax to pay for 100,000 jobs for young people
Investment in projects like new school buildings to be brought forward
Temporarily cut in headline rate of VAT
Cut in VAT on home improvements to 5% for one year
A tax break for every small firm which takes on extra workers
Conservative MP Matthew Hancock, a former adviser and close ally of chancellor George Osborne, said Labour's plan meant higher borrowing and more debt.
"Labour have abandoned the Darling plan, and now freely admit they would just keep spending on the taxpayer's credit card," he said. "You wouldn't bring Fred Goodwin back to run the banks, so why would you bring back Ed Balls to sort out the economy?"
In his party conference speech earlier this month, Mr Osborne ruled out tax cuts to stimulate demand but said the Treasury would engage in "credit easing" - a move aimed at cutting the cost of borrowing for businesses as well as improving access to loans.