Ministers delay state pension rise to 66 to help women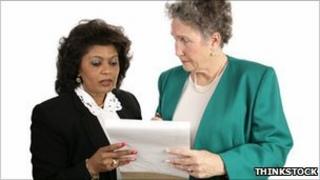 Plans to raise the state pension age to 66 in 2020 will be delayed by six months to address concerns thousands of women will be unfairly disadvantaged.
Under coalition plans, the pension age was due to rise for women from 60 to 65 by 2018 then to 66 in 2020.
Critics said the move would mean some 30,000 women would have to wait an extra two years to get their pensions.
Ministers have reacted by delaying the second rise in the pension age for men and women from April to October 2020.
The BBC's political correspondent Carole Walker said this was designed to address the concerns of a group of women born in the 1950s who were told, with little notice, that they might have had to wait up to two years to collect their pensions.
The change would cost the government about £1bn, she added.
The maximum delay in getting a pension will now be capped at 18 months. This is expected to benefit 245,000 women - including the worst affected 33,000 - as well as 240,000 men who will also receive their pensions a few months earlier.
'Listened'
Ministers announced plans last year to bring forward the date at which the pension age for men and women would be "equalised".
Under the plans, the pension age for women will rise from 60 to 65 by 2018, going up to 66 by 2020.
Women's groups said this would penalise about 330,000 women in their late 50s who would have to work for an extra two years before being able to collect their pensions and would have little time to prepare for the change.
Labour had called the plans "profoundly and arbitrarily unfair" while Lib Dems and Conservative MPs had also expressed concerns about what they would mean.
Work and Pensions Secretary Iain Duncan Smith said ministers acknowledged the existing plans were "on balance, unfair" in terms of their likely impact on this group of women, so the 18-month cap was being introduced.
"That will free up a lot of women, I hope, from their concerns and worries. We have listened to them and I hope that people believe we have acted well," he told the BBC.
Mr Duncan Smith said the move - to be made to the current Pensions Bill - would be funded out of the £30bn in savings generated in the next Parliament by raising the state pension age and equalising it for men and women.
Lib Dem pensions minister Steve Webb said the government had "delivered on its promise" to consider the impact of the pension changes on those "most adversely affected".
'Climb-down'
"Raising state pension ages have to be done but we need to look at the individuals who are being affected and try and make sure the increases are not too sharp," he told Sky News.
"What we are doing here really is an issue of fairness. It is fair to ask people to work longer but there is an issue of how much you can ask them to work longer relatively late in their working lives."
Joanne Segars, chief executive of the National Association of Pension Funds (NAPF), said: "This takes some of the sting out of what was a very raw deal for many women.
"This is a useful bit of leeway. People need time to prepare their finances for the transition into retirement, and there is now a clearer ceiling on what to expect.
"But a lot of women in their late 50s are still being told to wait another 18 months, and many will struggle to bridge the gap. The government could have done a bit more to give them extra notice."
Labour's Liam Byrne, shadow work and pensions secretary, said: "This is a humiliating climb-down for David Cameron, who has ordered his ministers to rush out an eleventh-hour change to his Pensions Bill which faced a storm in Parliament next week."
TUC general secretary Brendan Barber said that putting up the state pension age would not create any extra jobs for older people.