'Disillusioned' Tory MEP Roger Helmer to stand down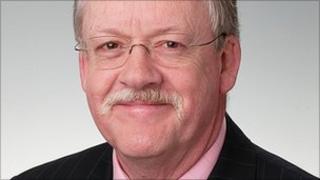 Conservative MEP Roger Helmer has said he is quitting his seat in the European Parliament as he is "disillusioned" with the direction of his party.
Mr Helmer, who represents the east Midlands, will stand down at the end of the year - half way through his term.
The MEP has attacked Conservative policy on Europe and called for a referendum on UK membership of the EU.
Mr Helmer, first elected in 1999, has made a number of outspoken comments on social issues in recent years.
Mr Helmer announced his intention to stand down on Wednesday in a letter to the chairman of his regional party, saying he would relinquish his duties on 31 December.
Europe rows
The MEP has clashed with the party leadership on a number of issues and earlier this summer urged Prime Minister David Cameron to call a referendum on the UK's future in Europe.
Mr Helmer said he was "increasingly disillusioned and disappointed" with the direction of the coalition government at Westminster and the Conservatives'' role in it.
On Europe, he said the party was passing up a "golden opportunity" to redraw the UK's relationship with Brussels in light of the current eurozone crisis and calls for greater integration in future.
In other policy areas, such as subsidies for renewable energy, he said he felt he could no longer support what his party was doing.
"You reach a point, in all honesty, where you cannot sit here and say I am a Tory MEP but I disagree with nine-tenths of what the party are saying," he told the BBC.
"The only honest thing to do is to say you quit."
'Sincere'
Mr Helmer quashed any suggestion he would defect to the UK Independence Party, saying he had been elected to represent the Conservatives and standing down was the "decent, honourable" move. He said he hoped to remain a member of the party.
Conservative sources in Brussels said Mr Helmer's move was not a great surprise given his criticism of party policy.
Martin Callanan, Conservative leader in the European Parliament, said: "Roger and I haven't always agreed on every matter of policy or procedure, but nobody could doubt his sincerity or commitment to his constituents.
"He has approached his decision to resign in his usual manner - straightforward and true to his own principles."
Under the party's constitution, Mr Helmer's seat will be offered to Rupert Matthews, the candidate who was next on the Conservative Party list for the east Midlands at the 2009 election.