Wealthy donors 'paid for Werritty to advise Liam Fox'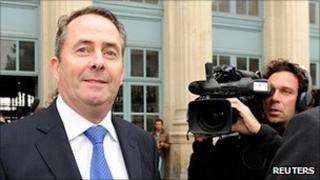 A wealthy backer of Liam Fox has told the BBC he and several others raised funds to pay for Adam Werritty to act as the defence secretary's adviser.
The donor - who wants to remain anonymous - told BBC political editor Nick Robinson that the group shared Mr Fox's ideological leanings.
The Conservatives said Mr Werritty was not an adviser, while Mr Fox has insisted he will not quit.
Labour's Kevan Jones said the situation appeared to be "a very shady set-up".
The defence secretary has been under pressure after it emerged that his friend, the lobbyist Mr Werritty, was present on 18 overseas trips and met the defence secretary at the MoD 22 times since May 2010.
He also carried business cards describing himself as an adviser to Mr Fox.
After an interim report into Mr Fox's conduct was released on Monday, No 10 said serious mistakes were made.
The BBC understands that the cabinet secretary's final report, which will examine whether Mr Fox broke the ministerial code, will be published within days.
'Bypassing the rules'
The BBC's Nick Robinson says the wealthy backers who paid Mr Werritty an annual retainer did so because they saw him as someone who, unlike civil servants, could be relied on to champion support for Eurosceptic, pro-American and pro-Israeli policies.
They say they do not have defence interests, however.
Our political editor said the problem with this explanation was that having an adviser outside the rules of the civil service - and paid for by undeclared donors - was almost certainly a breach of ministerial rules.
For Labour, shadow defence minister Mr Jones told the BBC the revelations "raised huge questions".
"David Cameron talks about new politics, but I didn't know new politics was actually about letting rich people influence public policy by bypassing the rules that have been set up," he said.
"If that is what David Cameron means by new politics, I'm sorry, that is a very serious situation for British democracy.
"[David Cameron's] either got to support Dr Fox, and admit he supports this very shady set-up, or he's got to go."
At Prime Minister's questions on Wednesday, Labour MPs pressed David Cameron for more information about Mr Werritty's meetings with officials and whether Mr Fox could keep his job, if it is shown he broke the ministerial code.
Mr Cameron said the ministerial code was clear that it was ultimately the prime minister's decision and added: "I think the defence secretary has done an excellent job clearing up the complete mess he was left by Labour."
The Cabinet Secretary is now running an official investigation into the matter and on Tuesday, officials questioned Mr Werritty - who was best man at Mr Fox's wedding and is his former flatmate.
Burglary
For his part, the BBC understands that Mr Fox viewed Mr Werritty as a kind of unofficial adviser, but has categorically denied to officials that he was in any sort of relationship with him.
Asked about his position on his way to Paris to meet his French counterpart on Wednesday, Mr Fox said: "I shall carry on doing the job I'm meant to do - the job I'm paid for."
The defence secretary has also denied claims that Conservative officials lied about a break-in at his London home last year, following claims in the Sun that they had said Mr Fox was alone at the time - when in fact another man stayed in the flat overnight.
He said he had told police a friend - who was not Mr Werritty - had been staying in the guest room. His wife was stranded in Hong Kong by the volcanic ash cloud at the time.
"I was a victim of a violent crime, and I'm appalled at being portrayed as having something to hide. We are trying to establish why the media were given the impression I was alone."
A Conservative spokesman said later they had established the suggestion Mr Fox was alone "was released in good faith and that it was the result of a genuine misunderstanding".
'Wild gossip'
A press conference in Paris involving Mr Fox was cancelled on Wednesday and a planned keel-laying ceremony in Barrow on Thursday will also not go ahead.
A spokesman said the latter event was cancelled because Mr Fox had to be at a meeting of the National Security Council in London.
Employment Minister Chris Grayling, who ran Mr Fox's failed Conservative leadership campaign in 2005, told the BBC there was a "mass pursuit" of Mr Fox, who was doing a "good job".
Asked about rumours that the defence secretary is gay - described by Mr Fox himself as "smears" in a 2005 interview - Mr Grayling said there was "all kinds of wild gossip" about politicians.
"I've known Liam for many years, I've known Liam and his wife, they've always struck me as being a very happily married couple. The reality is that the gossip is certainly circulating."