Nick Clegg 'minded' to drop voter 'opt out' plan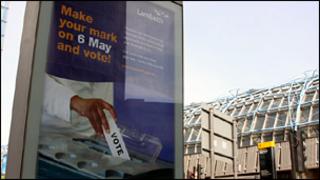 Nick Clegg has said he is "minded" to change a controversial proposal to allow people to opt out of being on the electoral register.
The Electoral Commission is concerned about the proposal, part of plans to change the way people register to vote.
Instead of one person per household listing eligible voters, the plan is that everyone will register themselves.
But a proposal in the White Paper suggests people could request not to go on the register on a temporary basis.
Both the Electoral Commission - the elections watchdog - and the Association of Electoral Administrators raised concerns about the proposal during a recent Commons committee.
'Fall off' fear
They suggested people might want to stay off the electoral register, for example to avoid jury service.
The Electoral Commission said the percentage of eligible voters named on the electoral register - currently thought to be around 90% - could drop to around 60%, to reflect the numbers of people who actually go on and vote.
Labour has suggested that millions of people could "fall off" the register.
Mr Clegg said the idea of having individual voter registration was to reduce fraud - currently ID is not required to register each voter in England, Scotland and Wales.
And he said the government would do "everything it can to maintain the completeness of the electoral register" and were phasing in the introduction of individual registration so no-one who was already on the register would be removed ahead of the next general election.
But he added: "I do however have sympathy with the concerns expressed by the Electoral Commission and others about the opt out proposals and I am minded to change these provisions when we bring forward the final legislation."
Under Labour there were plans to introduce individual voter registration in Britain from 2015 at the earliest but the coalition now plans to bring it forward to 2014 for new voters - which it says will save £74m.
Northern Ireland introduced individual registration in 2002 but in England, Scotland and Wales, one person is asked to name all those eligible to vote in their property.