Profile: Liam Fox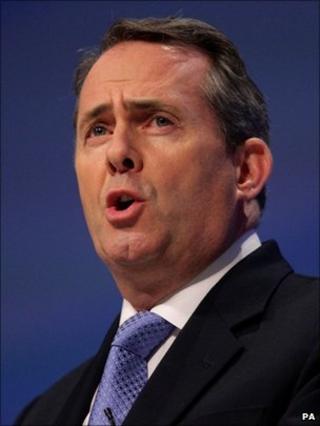 Defence Secretary Liam Fox, who has quit the cabinet, is a former Conservative leadership contender and a big figure on the right of the party.
His resignation follows days of questioning about the role of a personal friend, Adam Werritty, in Ministry of Defence business.
Mr Fox's 50th birthday party in September featured a rare public appearance by the former prime minister Baroness Thatcher.
A Eurosceptic who came third in the 2005 Conservative leadership race behind David Cameron and David Davis, he has been popular with the Tory grassroots and is a former co-chairman of the party.
Fox Peace Plan
First elected as an MP for Woodspring in 1992, he quickly rose through the ranks in the last years of John Major's government, becoming a government whip and later a Foreign Office minister.
It was during his time at the Foreign Office that he began what was to become a long relationship with Sri Lanka - linked to his efforts to broker a ceasefire in 1996, sometimes called the Fox Peace Plan.
Born and raised in East Kilbride, Liam Fox studied medicine at the University of Glasgow before going on to become a GP and working as a civilian medical officer in the armed forces.
He later put his medical background to good use in Parliament, becoming shadow health secretary under both William Hague and Iain Duncan Smith's leaderships.
In that role he pioneered the Conservatives' "patients' passports" policy, to allow patients to choose where they received treatment and even take 60% of the cost of operations out of the NHS to go private.
Defence cuts
He has also been known to help out with medical emergencies, most recently going to the aid of a pregnant woman on a flight from Istanbul to London in January.
One of Mr Fox's more unusual claims to fame is that he got a mention in the sleeve notes of the 1997 debut album of his friend, the actress turned pop star, Natalie Imbruglia.
He married his long-term girlfriend Jesme Baird in 2005, but had to address innuendo about his private life, saying he was very much in love with his then fiancee.
The subject has been raised again in recent days, but dismissed as "wild rumours" by Employment Minister and Fox ally Chris Grayling.
He said: "I've known Liam for many years, I've known Liam and his wife, they've always struck me as being a very happily married couple."
After the 2005 general election Mr Fox briefly became shadow foreign secretary before moving to defence after losing out to Mr Cameron in the Conservative Party leadership election in December 2005 - a brief he kept when the coalition government was formed in 2010.
As defence secretary he was seen as having won a victory over the scale of spending cuts - which at 8% over four years is lower than most other government departments - although it was also dealing with an existing £38bn "black hole" in its budget.
He inherited one conflict from his Labour predecessors - the war in Afghanistan - and was at the helm of the MoD as British jets were sent into Libya to protect civilians and oust Colonel Gaddafi.
This summer as David Cameron and French President Nicolas Sarkozy acknowledged the cheers of the Benghazi crowd, Mr Fox also got a share of the credit.
David Cameron made a point this week in the House of Commons of praising the "excellent job" he had done since becoming defence secretary.
But it was not all plain sailing in relations between the PM and Mr Fox.
High-profile role
Earlier this year, in a leaked letter, Mr Fox said he could not support a plan to enshrine in law the government's pledge to spend 0.7% of its gross national income on overseas aid "in its current form" - he suggested it could lead to legal challenges.
There was also a leak of a private letter from Mr Fox to David Cameron, warning about "draconian" cuts to defence budgets - prompting the PM to comment that the MoD seemed to have "a bit of a problem" with leaks.
BBC political editor Nick Robinson said Mr Fox always regarded himself as an outsider - a champion of Margaret Thatcher, Ronald Reagan and the Atlanticist cause long after it had gone out of fashion.
He suggested that in government, as he had in opposition, Mr Fox wanted to talk to his friend Adam Werritty as someone who thought like he did, who could ask the questions he would, who was on his side.
Nick Robinson said Mr Fox occupied a vital position in the cabinet - having long been in charge of the defence brief in opposition - at a sensitive time when British troops are in action overseas, and the government is pushing through difficult cuts to military budgets.