PM demands Liam Fox MoD inquiry answers on Monday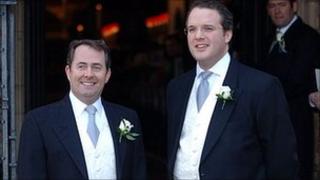 Prime Minister David Cameron wants the initial findings of a Ministry of Defence inquiry into Defence Secretary Liam Fox on his desk on Monday.
Mr Fox has come under fire over claims about his working relationship with his best man, Adam Werritty, who has no official role in government.
On Friday, Mr Fox ordered a MoD inquiry into whether their relationship had breached the ministerial code.
Mr Cameron has now asked the cabinet secretary to examine the report.
The ministerial code requires ministers to ensure there is no conflict between their public duties and private interests.
Questions followed claims that the defence secretary gave Mr Werritty, 34, a former flatmate and best man at Mr Fox's 2005 wedding, access to the MoD and allowed him to go on foreign trips with him.
Mr Werritty also allegedly brokered a Dubai meeting in June with businessmen as Mr Fox was returning from a visit to British troops in Afghanistan.
The defence secretary and the businessmen reportedly discussed technology that allows service personnel to make encrypted phone calls home.
The MoD said no officials had been present but one attendee at the meeting said he had been under the impression everyone had been security cleared. Mr Werritty had no such clearance.
The defence secretary was in Libya's capital, Tripoli, for talks with the Libyan National Transitional Council (NTC), on Saturday.
When questioned about the allegations regarding his links to Mr Werritty, Mr Fox said defence industry representatives had asked for the meeting in Dubai "when they happened to be sitting at a nearby table in a restaurant".
"It's not that unusual. But these questions are reasonable questions for people to ask and I don't mind that. That is what you get in a democratic society," he said.
Mr Fox said it was right for questions to be asked of his conduct, adding that was why he had asked for an inquiry and he "will stand by whatever the findings are".
However, later on Saturday, email correspondence seen by the Guardian appeared to call into question Mr Fox's version of events regarding the Dubai meeting by suggesting there had been a certain amount of planning to get it organised.
It prompted a spokesman for the defence secretary to clarify that Mr Fox had been referring to Mr Werritty and not himself having been at the impromptu restaurant meeting.
Shadow defence secretary Jim Murphy said "fresh questions" had been raised about the working links between Mr Fox and Mr Werritty.
"This issue has gone from being embarrassing to being controversial and has now moved way beyond that. This will cause alarm bells to start ringing even more loudly in Downing Street," Mr Murphy said.
He added: "The secretary of state's version of events appear to be unravelling and he now has even bigger questions to answer."
The MoD inquiry was initially commissioned by Mr Fox and is being carried out by the top civil servant at the MoD who had been due to report in two weeks.
As well as visiting Mr Fox's office 14 times in a year-and-a-half, the defence secretary confirmed on Friday that Mr Werritty used to carry business cards which said he was an adviser to Mr Fox.
He said he had told Mr Werritty it was "unacceptable" to carry such cards.
On Saturday the Times suggested another business card had surfaced, which it claimed Mr Werritty used to suggest he worked in Mr Fox's office in the Commons.
Cabinet ministers are allowed to appoint special advisers, with the rules about their role and the procedure outlined in the ministerial code. For example, all appointments require the prior written approval of the prime minister.
It is not clear whether Mr Werritty went through these steps before he called himself an adviser.