Liam Fox silent on claims over best man Adam Werritty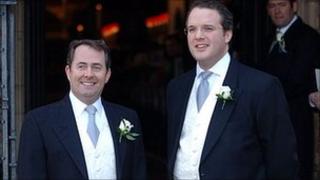 Defence Secretary Liam Fox has declined to answer questions about his working relationship with his best man, Adam Werritty.
It has emerged Mr Werritty set up a meeting for Dr Fox with businessmen in Dubai, despite having no official role.
On Friday, Mr Fox ordered a Ministry of Defence inquiry into whether their relationship had breached security or the ministerial code.
Speaking in Libya, he said the inquiry would look into the affair.
Labour called on Mr Fox to answer questions directly.
Mr Fox, who is in the capital, Tripoli, for talks with Jalal al-Digheily, defence minister in the Libyan National Transitional Council (NTC), and the council's chairman Mustafa Abdul Jalilsaid: "As you know, these are perfectly legitimate questions for a democratic country.
"We've set out a mechanism whereby these will be resolved in the UK."
In his first trip to Libya, Dr Fox also announced £500,000 in extra funding to help the interim NTC in the fight against arms proliferation and the support of two additional military advisers.
He said he was "incredibly proud" of UK forces who were involved in the "decisive steps" taken by the international community that meant a massacre by Gaddafi's forces was avoided in Benghazi and Misrata, and urged those still fighting in Sirte and Bani Walid to lay down their arms.
He also travelled to Misrata to visit a hospital where NTC fighters and Libyan civilian patients injured during the conflict are recovering.
Business cards
Mr Fox has been accused of giving Mr Werritty, a former flatmate and his best man in 2005, access to the MoD and allowing him to go on previous foreign trips with him.
The inquiry will examine whether there was a breach of security or the ministerial code, which requires ministers to ensure there is no conflict between their public duties and private interests.
It will be carried out by the top civil servant at the MoD.
Shadow defence secretary Jim Murphy has called on the prime minister to order what he says would be a more independent investigation, under the control of the Cabinet Secretary Sir Gus O'Donnell.
A Downing Street spokeswoman said it was important the civil servant was "allowed to get on" with the investigation, and it was "in line with protocol" that the department's permanent secretary should be charged with "establishing the facts".
She would not comment on whether the prime minister had spoken with Mr Fox about the issue in the last 24 hours.
BBC political correspondent Adam Fleming said Mr Werritty had brokered the Dubai meeting in June as Mr Fox was returning from a visit to British troops in Afghanistan.
It is reported Mr Fox and the businessmen discussed technology that allows service personnel to make encrypted phone calls home.
The MoD said no officials were present but one attendee at the meeting said he had been under the impression everyone had been security cleared. Mr Werritty had no such clearance.
As well as visiting Mr Fox's office 14 times in a year-and-a-half, the defence secretary confirmed on Friday that Mr Werritty used to carry business cards which said he was an adviser to Mr Fox.
Now the Times suggests another business card has surfaced, which it claims Mr Werritty used to suggest he worked in Dr Fox's office in the Commons.
Speaking on Friday, before the new claims, the defence secretary told the BBC that "wild allegations" had been made against him.
"Because there have been some allegations of security leaks and so on, I've asked the permanent secretary to look into that for me," he said, adding that he would accept the official's findings.
Of Mr Werritty's business cards that said he was an adviser to Mr Fox, the MP said: "I understand those cards are no longer used.
"I've made it very clear to him that it's unacceptable to carry a card saying that he's a personal adviser."
'Panic measure'
Cabinet Ministers are allowed to appoint special advisers, with the rules about their role and the procedure outlined in the ministerial code. For example, all appointments require the prior written approval of the Prime Minister.
It is not clear whether Mr Werritty went through these steps before he called himself an adviser.
Labour suggested the internal inquiry was a "panic measure" and Mr Fox "should be answering questions today".
"He has brought this controversy upon his head," shadow defence secretary Jim Murphy said. "There have been straightforward questions that he has just been unable to answer."
Statements made about Mr Werritty's role had later been turned out to be wrong, Mr Murphy suggested, and Mr Fox must now set what paperwork Mr Werritty had seen, how often he visited MoD buildings and for what reason.
"He (Mr Werritty) is not paid by the MoD, he is not paid by the House of Commons, but he is travelling around the world handing out business cards with House of Commons logos as an adviser to Liam Fox.
"It becomes murkier and murkier."